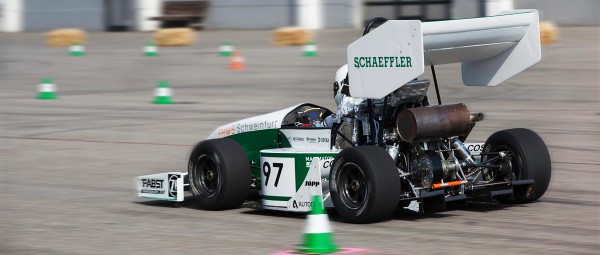 The fascination of motor sport
Support and know-how for the engineers of tomorrow
Formula SAE
The Formula SAE or Formula Student is an international design competition, for which technically oriented students accept the challenge to develop a single-seat formula race car, design it, and ultimately build it. The international student teams then compete with the vehicles they constructed in competitions all over the world.
The Formula SAE competition forms a connection between the theory learned at a university. The concept behind is that a fictional manufacturing company has contracted a design team to develop a small Formula-style race car. Each student team designs, builds and tests a prototype based on a series of rules whose purpose is both to ensure onsite event operations and promote clever problem solving.
Schaeffler is one of the main sponsors of Formula Student Germany and FSAE Brasil, also the FSAE Italy is sponsored by Schaeffler. Furthermore, Schaeffler is a supporter of several teams in various countries.
The Formula SAE provides an ideal platform for students to test their engineering expertise in practice and in a competition and, at the same time, to develop a comprehensive understanding at numerous different levels. This makes participants popular applicants. As a sponsor, we are in close contact with the teams and provide support to the students with internships, theses, and starting their careers at Schaeffler.
---
Formula Student Germany at the Hockenheimring
This year's Formula Student Germany at the Hockenheimring will take place from August 14-20, 2023. In 2022, well over 100 student teams from universities all over the world competed with their racing cars in a highly motivated manner. For the fourth time and under the motto "Recharge Zone" Schaeffler was one of the main sponsors of the event and informed participants about possibilities of working together with Schaeffler in creating mobility. "Through their commitment in such a competition, the students show their team spirit, creativity and passion for technology. Characteristics, which are highly estimated by Schaeffler," found Chief Human Resources Officer Corinna Schittenhelm.
---
Experience us virtually and in live chat on our CareerXperience platform. There you can get in touch with us personally, register for lectures and visit our virtual training center.
Share Page