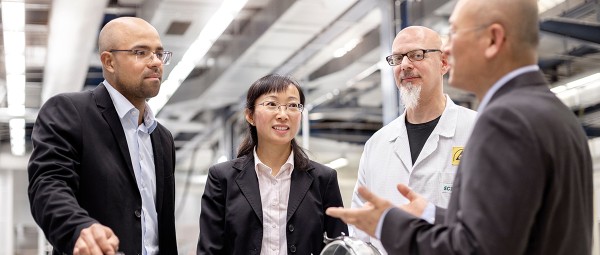 Transparency, trust, teamwork
How we practice good leadership
Our principles for good leadership
Leadership at Schaeffler is based on transparency, trust, and teamwork. Our managers assume responsibility for decisions while also encouraging others to make decisions of their own. An open culture of feedback and trust in the abilities of others is an important basis here.
Six leadership essentials guide us every day
Connect for success – Empower your team – Care for people – Manage for results – Drive the change – Take on responsibility. The six leadership essentials provide the framework for our leadership culture and are thus of particular importance for the future success of our company.
Achieving outstanding results for our customers requires good relationships and teamwork. This means that we have to focus on results in an open and cooperative manner instead of simply thinking about our own success. That is how we define real team work at Schaeffler. Our employees are essential to our success, so we must support them and help them to develop. This can only be achieved through open communication and constructive feedback.
Our leadership essentials were developed in workshops with hundreds of managers and employees from Schaeffler worldwide. They are valid worldwide and draw the focus to areas that are vital for us to position ourselves correctly.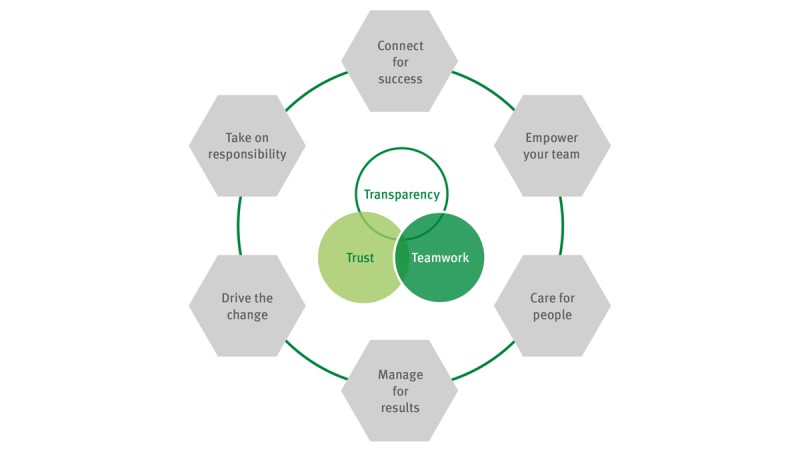 A modern leadership culture
At Schaeffler, we value a modern leadership culture. We are constantly questioning the ways in which we lead, how we work together day to day, and how we define good, modern leadership.
In detail: Our six leadership essentials that ensure good leadership
The leadership essentials provide the framework for Schaeffler's leadership culture and day-to-day guidance for our managers. The commitment to connect for success, empower your team, care for people, manage for results, drive the change, and take on responsibility requires a specific type of leadership conduct.
Connect for success
We all have both the aspiration and the responsibility to continue Schaeffler's success story. We aim to reach the top in certain businesses and maintain our position as a market leader in others. This is only possible if we cooperate seamlessly across our sectors, functions, and departments.
◾Always acting in the interests of Schaeffler
◾Collaborating productively with other departments
◾Sharing relevant information
◾Requesting and practicing teamwork both internally and externally
◾Actively offering and accepting support
Empower your team
Managers need to be able to focus their resources on the most important tasks at hand and also delegate tasks to their teams. To achieve this, managers empower their teams and trust them to deliver excellent results.
◾Communicating openly and regularly
◾Defining clear targets, tasks, and responsibilities
◾Delegating tasks in a trusting manner
◾Empowering teams to deliver top performance and learning together from mistakes
◾Valuing the team's results
---
Care for people
Employees are Schaeffler's most important resource – their commitment and expertise are the key to our success. We therefore ensure that our managers not only help their teams to develop new skills but also provide a working environment that encourages and acknowledges creativity.
◾Making employees successful by promoting their strengths
◾Developing employees for Schaeffler through coaching and training
◾Regularly giving and requesting open and constructive feedback
◾Respecting and utilizing diversity, and creating the corresponding working environments
◾Paying attention to employees' health, wellbeing, and occupational safety
Manage for results
Result orientation is part of our DNA. This "promise and deliver" attitude is something we need to keep and further build on. Customer benefit must be a clear priority – only then can we fulfill and exceed their expectations all the time.
◾Defining targets and explaining the reasons for them
◾Always going the extra mile to achieve our targets
◾Utilizing internal and external expertise in a targeted manner
◾Planning ahead while regularly reviewing our course
◾Making good results visible and rewarding them
---
Drive the change
In recent years, our industry has experienced incredible technological development at an ever-increasing pace – a trend that is set to continue. That is why we expect our managers to be open to innovations and new approaches – and they motivate their employees to do the same.
◾Being open and curious
◾Inspiring the team with new ideas
◾Making the need for change visible in order to initiate the transformation
◾Developing and communicating implementation plans
◾Ensuring sustained success
Take on responsibility
Managers have to make decisions every day, which are often difficult or involve risks. Making and consistently standing by these decisions is an essential part of leadership at Schaeffler, however, and is therefore expected of our managers.
◾Making clear decisions and standing by them
◾Taking calculated risks
◾Promoting the search for solutions
◾Putting up one's own ideas for discussion
◾Representing team decisions to external parties
---
Experience us virtually and in live chat on our CareerXperience platform. There you can get in touch with us personally, register for lectures and visit our virtual training center.
Share Page