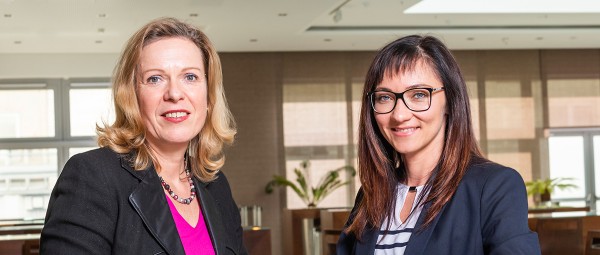 The Schaeffler Top Students Program
Enthusing students about one's own company early on in their careers – Schaeffler achieves this, among other things, with its Schaeffler Top Students Program, in which around 100 students are currently taking part. With this program, Schaeffler stays connected with the students beyond their internship, working student position or final thesis. Anna Maslow and Sven-Erik Asmussen report on how they successfully launched the beginning of their careers at Schaeffler with the help of this program.
From working student to team coordinator
For Anna Maslow it was a wonderful recognition of her achievement. Her six-month internship at the purchasing department in Höchstadt had been a great success. She had learned a lot and her supervisor was highly satisfied with her performance shown. He therefore recommended her as a candidate for the Schaeffler Top Students Program. The young woman who studied Business Administration at the University of Applied Sciences Würzburg-Schweinfurt at the time, said this almost felt as if she was becoming one of the Schaeffler family. That was six years ago. Today, the 29-year-old works at Corporate Production Logistics Process Control in Herzogenaurach, where she is a coordinator of a team of eight colleagues.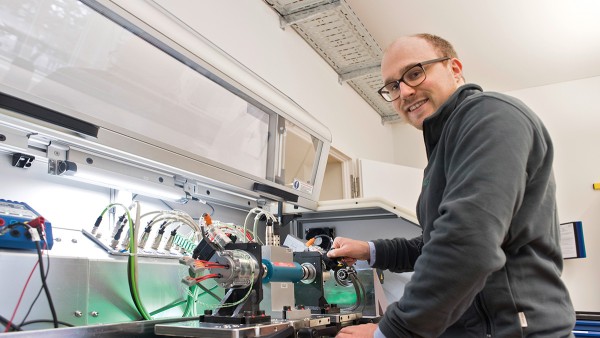 Electrified skateboard scoops award
Sven-Erik Asmussen underwent a similar experience. Between July 2015 and May 2017, he spent a year and a half as a working student in the Electric Drives working group, which is part of the SHARE at KIT cooperation – a "company on campus concept" based at the Karlsruhe Institute of Technology. There, he initially performed patent research and was involved in the development of electrical circuits and in circuit board layout. Together with some other students he developed an electrically powered skateboard with which to cover the last mile. "Together, we won the Inspiration Award at the Forum of Inspiration 2016 for our prototype," he says. "And the concept was even presented at the Consumer Electronic Show 2017 in Las Vegas."
It was not only this project that caught his supervisor's attention. "It was clear early on that he would one day become a promising engineer," recalls Dr. Johannes Kolb, Head of the Electric Drives working group at SHARE at KIT. Because as playful as it may sound, the skateboard project showed a proficiency for electric drives on the part of Asmussen. Electric drives not only play a decisive role in electric mobility, they are also the heart of numerous actuator applications in the Schaeffler product portfolio. Dr. Kolb therefore recommended Sven-Erik Asmussen for the Schaeffler Top Students Program.
Entry into the professional world is made easier
"The program has made it easier for me to enter the professional world," says Anna Maslow. Even though she returned to university after her internship, she always stayed in contact with Schaeffler. "As Top Students, we were invited to events and had our personal contacts who were there for us. For me, Schaeffler was much more than just the green logo."
Around 100 students are currently taking part in the Schaeffler Top Students Program, through which Schaeffler keeps in touch with them. "Top Students can get to know Schaeffler better, build networks, and set the course for a successful career start," explains Tanja Kaltenhauser, who oversees the program. Heike Pees-Huschka confirms that participation in the program is a good passport into the Schaeffler world. She is Anna Maslow's supervisor in the Corporate Production Logistics Process Control department. "The students from the program find it easier to get a foot in the door. After all, they have already shown commitment and willingness to think outside the box during their previous internships." Heike Pees-Huschka finds it important to arouse the young talents' interest in Schaeffler at an early stage with such a program.
Strong commitment, above-average performance, and talent
Students who impressed Schaeffler with their high level of commitment, above-average performance, and talent during their assignment can be recommended by their superiors. Final admission is then left in the hands of the three HR departments of the Herzogenaurach, Schweinfurt, and Bühl locations. The Top Students, who study at least for another two semesters at university parallel to the program, receive insights into the company during this time and are invited to various events and workshops. In addition, they can establish a network in an exclusive online community.
"In this community, the Top Students are able to exchange experience and information and register for events," says Tanja Kaltenhauser, who organizes a two-day summer event for Top Students every year together with three colleagues from the three locations. "On this occasion, we offer team-building activities and factory tours. In addition, we also present current topics relating to the future fields of e-mobility, digitalization, and Industry 4.0. The event is also intended to promote mutual exchange and getting to know each other," says Tanja Kaltenhauser. Sven-Erik Asmussen has fond memories of his two days spent in Franconian Switzerland where he participated in a number of activities, including archery, geocaching, and an evening barbecue with the other students. He still keeps in touch with many of them.
Insights into the entire company
It is precisely because of Herzogenaurach's great distance is so great that the Schaeffler Top Students Program can help participants get to know the entire group, says Dr. Johannes Kolb in Karlsruhe. "They can find out which topics are on Schaeffler's agenda at the moment, and they can establish a network. These are very important factors that will be very helpful later on. Above all, however, the participants will have learned relevant skills for the transition from student life to career entry." Sven-Erik Asmussen successfully accomplished this transition. He now works at SHARE at KIT and is focused on the further development of small electric drives.
Anna Maslow found a topic for her master's thesis at Corporate Production Logistics Process Control and after completing her studies, started working as a specialist for production order processing in the same area. She quickly became established in the team and soon took on initial project responsibility. "Her colleagues appreciate her and her methodical and analytical approach, which is fundamental in our area," says her supervisor Heike Pees-Huschka. Anna Maslow doesn't want to miss the experiences from the Schaeffler Top Students Program: "Thanks to the intensive contact with the other participants, I was able to build up a network and gain extensive insights into the company. That still helps me today."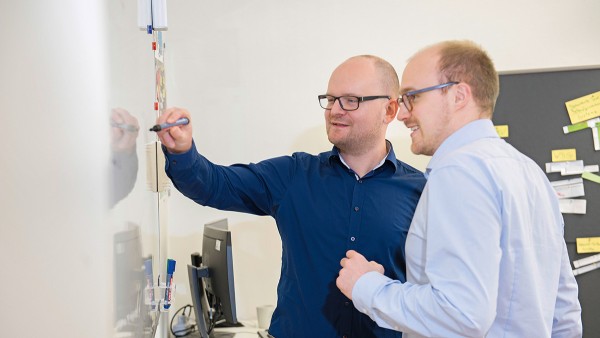 Share Page