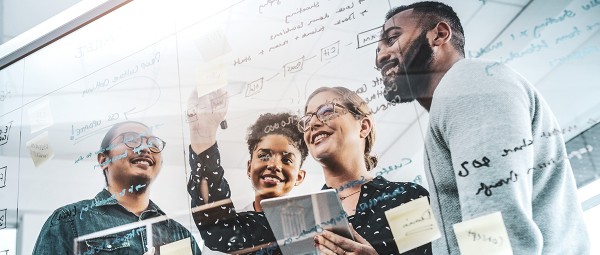 Partners for Schaeffler: Identifying digital potential through collaboration
Innovation comes from teamwork. Who could know that better than the employees at Schaeffler? After all, the company has been coming out on top as one of Germany's most innovative firms in the ranking compiled by the German Patent and Trade Mark Office for years now. Schaeffler applied for another 1250 new patents in 2022 alone. This kind of output is only possible when all employees are working hand in hand. In other words, working as a team. The things that work well in a team setting – cooperation and working together to identify new solutions – are things that Schaeffler is now successfully putting into practice in its collaborations with partner companies.
Successful digitalization – It's all down to the ecosystem
Digitalization is a key strategic topic for Schaeffler in its Roadmap 2025, not only in how it paves the way for Industry 4.0, but throughout all business divisions and internal departments. Digital applications are the key to Schaeffler becoming even more innovative, agile, and efficient. One of the cornerstones here are digital ecosystems, within which Schaeffler is working closely with other innovative companies to create added value for customers.
This is why Schaeffler is putting its faith in collaborating with other innovative firms when it comes to digitalization too. Anyone who wants to get ahead in the digital age needs strategic partners who they can cooperate with to come up with joint solutions. With SAP, Microsoft, and PTC, Schaeffler has no less than three companies in its team, which are already market leaders in their own sectors.
SAP: Innovative IT application systems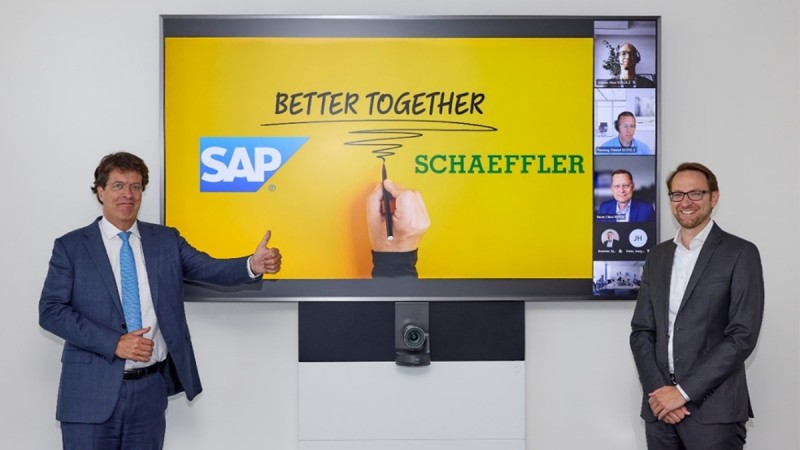 Schaeffler has been using software products from SAP for around 40 years. The two companies have also been strategic partners since 2019 and are working on further developing IT application systems. The aim is to forge ahead with Schaeffler's digital transformation. The focus here is on both ongoing and future projects relating to the introduction of SAP solutions.
At the same time, there is a strategic exchange of ideas happening across top management and at other levels too. This enables intersections to be identified in the technology roadmaps of both companies. The two firms have launched numerous innovations in this way over the past few years. A pilot project looking at conversational AI allowed Schaeffler to push ahead with developing its own voice assistant and to utilize the feature both internally and externally.
The companies are also sharing their best practices and experiences around data culture, data architecture, and data models, which are reflected in the firms' internal standards. In the domain of people and culture, Schaeffler can use SAP SuccessFactors to digitally illustrate key HR issues such as talent management or personnel planning even more effectively. Where new work, digital skills, or change management is concerned, both companies benefit from a close and open exchange of ideas.
Schaeffler is also working closely with SAP on the S/4HANA transformation project, which is all about transferring Schaeffler's existing ERP solution into the cutting-edge S/4HANA architecture. In addition, both companies are founding partners of Catena-X, a trustworthy network for sharing data within the automotive industry, and established the joint venture Cofinity-X in 2023 along with other partners.
Microsoft: Security, qualification, and sustainability are joint focal topics en route to the cloud
Schaeffler and Microsoft have been collaborating as strategic partners since 2020 across several fields. The partnership focuses on three key topics: security, qualification, and sustainability. "The combination of the perspectives and experience gained by both companies ultimately results in innovative and practical solutions that each benefits from in the long term," points out Klaus Rosenfeld, CEO of Schaeffler.
The two companies worked together to develop cloud solutions for Schaeffler production with the aim of processing and organizing orders fully automatically or harnessing artificial intelligence to optimize costs and energy demand, for example. Parts of Schaeffler's data centers have now been relocated to Microsoft Azure to ensure the firm can provide computing power flexibly and sustainably. Schaeffler's OPTIME solution, which allows machine components to be monitored in real time, is also based on Microsoft Azure.
A mixed reality solution in the form of Microsoft Dynamics 365 Remote Assist combined with HoloLens means Schaeffler experts all over the world can provide support for technical production issues quickly and easily – from training on individual work steps right through to commissioning entire machines. By using the HoloLens headset, Schaeffler has been able to create even more flexibility, while improving plant effectiveness, productivity, and cost efficiency at the same time.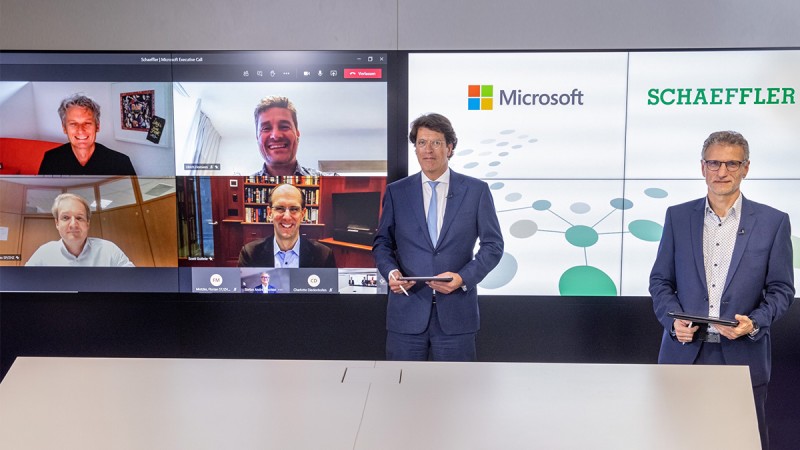 PTC: End-to-end IT landscape for developers
Schaeffler has been working with PTC software solutions for 20 years now and relies, among other services, on the CAD and product lifecycle management solutions that the US technology firm provides. Its engineering applications are essential for introducing and further developing the digital twin, particularly for the purpose of visualization in 3D models, which the company then uses for augmented reality projects.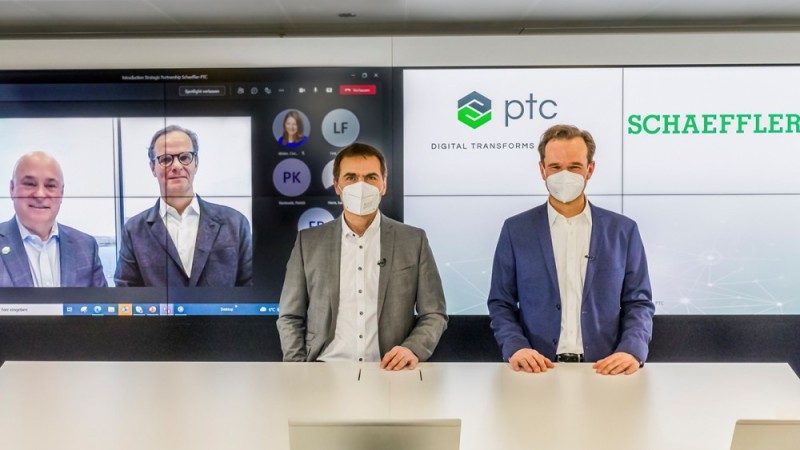 The two companies have been strategic partners since 2022 and have now intensified their collaboration even further. Working in conjunction with PTC, Schaeffler is seeking to consolidate its engineering IT environment so it can respond to rapidly changing requirements even more efficiently. They also want to create an integrated, agile, and end-to-end IT landscape for developers at the same time.
"For Schaeffler, seamless data models, 3D data, and digital twins are already elementary components of the research and development process. Increasing complexity calls for consistent IT solutions across all development areas to realize greater innovation, agility, and efficiency gains. In order to achieve this, it is crucial for Schaeffler to work together with strong partners, such as PTC," says Uwe Wagner, Chief Technology Officer at Schaeffler AG.
Digitalization: Small partners with big ideas
Schaeffler is on the lookout for new digitalization ideas and solutions with other companies and organizations too. This includes supporting small, innovative startups and up-and-coming research institutes as part of Schaeffler's partnership strategy. With its SHARE program, the company is running a global research network with leading universities around the world.
Schaeffler is also a founding member of KI Park e. V. in Berlin, which supports specific applications in the field of artificial intelligence. In addition, Schaeffler is an anchor partner of the STARTUP AUTOBAHN innovation platform.
As you can see, Schaeffler is taking various innovative approaches to digitalization: Because the best ideas come about by working as a team with strong partners.