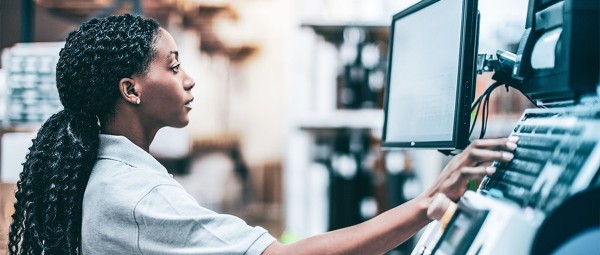 Smart Factory: How digital is the factory of the future?
The vision of the future for many entrepreneurs: the smart factory whose production organizes itself. From procurement and maintenance to flexible production - with the aid of digital production, operation of the factory of the future should be automated as far as possible. With the smart factory, companies can adapt to changing market conditions with greater agility, produce with greater flexibility and conservation of resources, and discover and implement the potential for efficiency more quickly. Find out here how something like this can work and which technologies the Schaeffler Group is developing and already using itself as an industrial partner for the smart factory.
What is a smart factory?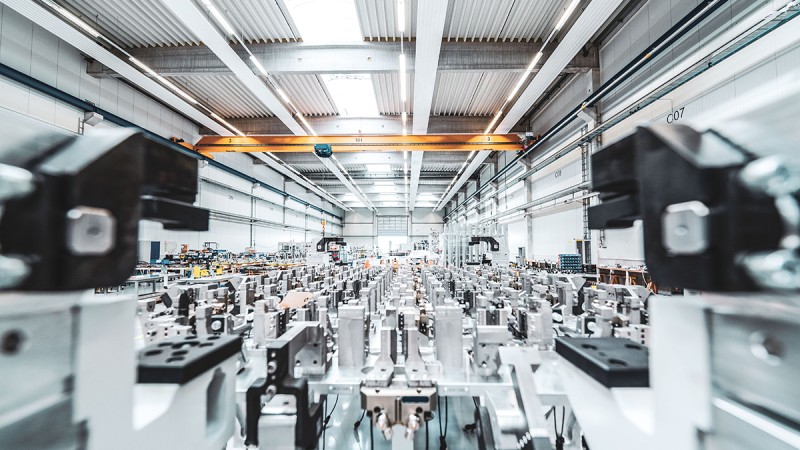 The term "smart factory" refers to a production plant that is largely self-controlled. This means that it finds and exploits advantages of efficiency, and responds as flexibly as possible to customer requirements, as well as to market and general boundary conditions. The smart factory currently represents the highest level of development in industrialization.
Ideally, all plants, processes and products are networked with each other. With the aid of a constant exchange of data between production facilities and products, as well as between digital production and logistics systems, the smart factory can organize itself.
The products are created within the digital production of a smart factory. But the possibilities of a digital factory extend even further. In a further step, it networks with other divisions and then, in the next step, with suppliers and customers. In this way, additional processes in purchasing, order acceptance, warehouse logistics and delivery can be integrated intelligently, efficiently and in a fully automated mode.
The human being as a key player in the factory of the future
At first glance, you might think that humans are superfluous in smart factories. The opposite is true; in fact, even a smart factory needs people. Their role is changing, however. As the level of automation increases, routine tasks in particular, which were previously performed by humans, are reduced to a minimum. In a digital factory with digital production people monitor production and evaluate the data in order to correct errors or implement optimizations.
Smart factory: Schaeffler networks all 83 plants worldwide
Schaeffler, a global automotive and industrial supplier, is taking the smart factory one step further by networking its plants. Even the main development centers in Germany, located at Herzogenaurach, Schweinfurt and Bühl, are networked with further development centers in Europe, Asia and both North and South America. The basis of this network is a landscape spread over 83 plants with machine parks, numerous processes and innovative IT solutions. Thanks to the data generated and the resulting big data analyses, Schaeffler can continuously optimize its digital production and develop new data-based services.
How Schaeffler plans digital factories
Schaeffler has a clear vision for the year 2030: a modular, flexible, and digitalized production model, end-to-end (E2E), in the manufacturing areas. The basis for this is end-to-end connectivity from the machine to the cloud and back again. Schaeffler is initially focusing on networking machines and plants at the local level, then regionally, and finally at the global level. Above all, this requires comprehensive planning. Schaeffler uses data-based planning and analysis tools for this purpose. This applies to the modeling of complete production lines as well as to process optimization or flexible production control.
With these digital images of production, also known as digital twins, Schaeffler can simulate maintenance, applications, and optimizations, in addition to an optimized production layout, over the complete life cycle of a machine or production plant and monitor them in productive use. The digital twin is also suitable for training purposes: Using the models that can be experienced through virtual reality, Schaeffler can train employees in production independently of the real machines.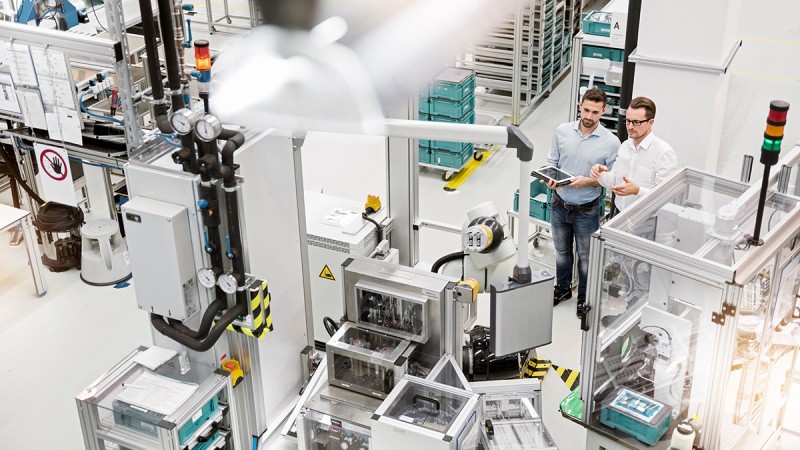 Digital factory: Schaeffler is relying on these tools
The technology group uses data-based planning tools to plan new production lines. Schaeffler also uses virtual planning for industrialization projects, material flow optimization, relocations, and the planning of robots.
Using digital tools such as the 360 Plant Navigator, Schaeffler can scan entire plants and create virtual 3D models of its locations. These images that are similar to Google Street View allow employees, suppliers or customers to take a look at different production lines from any location. This enables measurements of the equipment in a smart factory to be taken remotely with centimeter precision, for example for the planning of layout changes.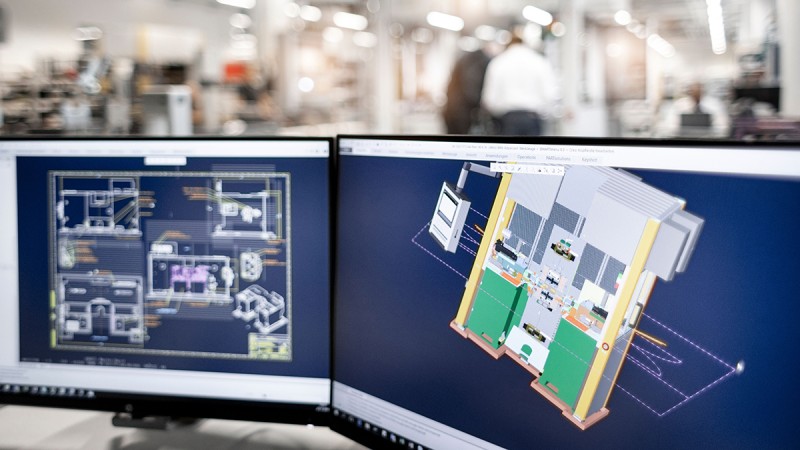 To date, Schaeffler has scanned seventeen of its plants, making them available digitally (as of March 2023). In the future, the display will be augmented with more and more information about the organization or the current production.
Further data is generated in numerous digital projects: For example, when a cobot is trained how to insert a gear, data about this work step is collected, processed and analyzed. Bit by bit, this data contributes to the digital twin that Schaeffler's experts use when planning further digital factories or when adapting existing production facilities.
New production sites such as the Tool Technology Center in Höchstadt, Germany, are already fully digitalized through the use of digital planning tools among other things. One good example of a smart factory is the new Schaeffler plant in Szombathely, Hungary. It is Schaeffler's first production plant fully dedicated to electro-mobility and sets standards in sustainability and creates new jobs in e-mobility. Szombathely II has a high degree of automation because Schaeffler has given this factory of the future a modular and fully digitalized design. Sensitive production processes for assemblies such as stators, rotors and the integration of magnets for synchronous and asynchronous machines require a high degree of cleanliness. Automated production lines and the extensive use of robots guarantee these standards.
Digital production: Networking of all employees
Schaeffler not only relies on data-based tools for planning its smart factories and digital production facilities - the innovative family-owned company also networks all its employees. In this way, Schaeffler makes their day-to-day work easier and also ensures increased efficiency in production operations.
An important component of this is the IT connection for all employees in production operations. Because only if all colleagues have personalized access to the range of IT services they can take full advantage of the possibilities of a smart factory and digital production. This also gives employees easier access to the Schaeffler training catalog with digital learning opportunities.
In addition, employees have access to various apps and terminal devices, depending on their area of responsibility. The factory of the future already has tangible benefits for them today. For maintenance employees, for example, there is a comprehensive portfolio of apps that make everyday work easier. This includes a mobile shift book that saves them an average of three minutes of travel time per job, giving them more time for their core tasks. Jobs can be documented easily and in real time, reducing the amount of maintenance work and improving data quality.
In addition, digital solutions also help to ensure high quality: Both during the initial part inspection and during the inspection of parts suspected of being faulty, employees are supported via app and the associated data is recorded. Schaeffler can use this message data to optimize the processes within its smart factory and, not least, to continuously improve its products.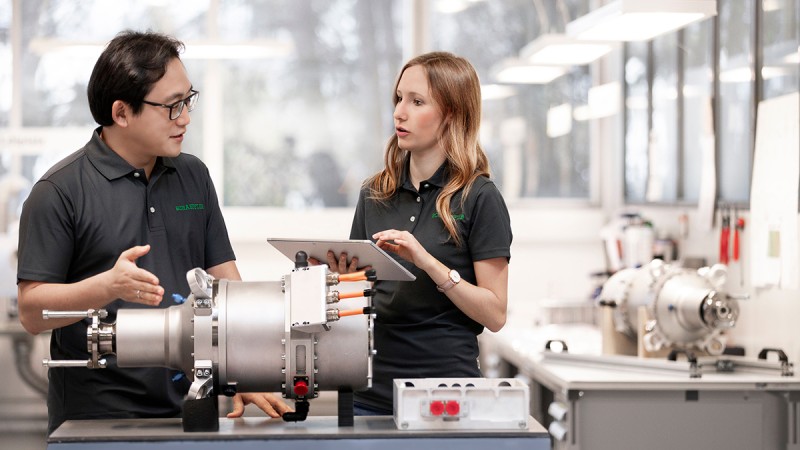 Further information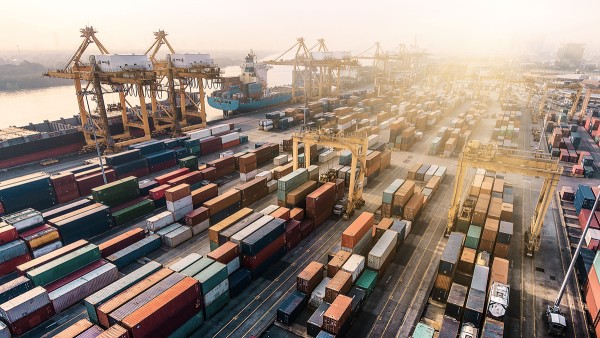 Digital logistics: The cube that keeps things rolling
Read here how digital solutions make our supply chain even more resilient and help us find the most reliable, fastest, and most carbon-neutral routes for the movement of our goods.
Share Page