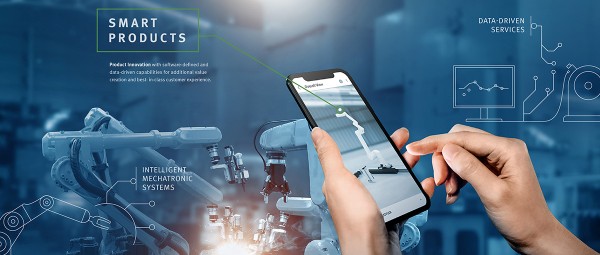 Digital ambassadors: Smart Products
Smart, connected products are being created in every division of the company. Equipped with sensors, electronics and actuators, they provide information for the highly scalable condition monitoring of industrial facilities and equipment, for example. Our digital ambassadors Hamid and Andreas give us an insight into their work and into the digital transformation in the Automotive Aftermarket and Automotive Technologies Divisions.
The expert in digital transformation
When it comes to digital transformation in the Automotive Aftermarket division, the key objectives are to unlock turnover and efficiency potential, and to improve the customer experience. "Every contact that a customer has with Schaeffler counts. They could be placing an order or making a service request," explains Hamid Manesh. "An example is Schaeffler OneCode, which offers our customers multiple digital services on a standard smartphone. Workshops can collect bonus points or view installation manuals in no time."
Shaping change
Hamid's team is currently developing the digital processes and services that are required for customer experiences, before they will be rolled out in cross-functional project teams all over the world. The focus is on working collaboratively with Schaeffler's business partners and across all areas of the company. Hamid sees this collaboration as a crucial factor in successfully developing user-friendly solutions that offer a high potential for improvement and a real practical benefit.
For Hamid, teamwork and a high level of individual responsibility when it comes to developing solutions and implementing projects are important factors in one's day-to-day work. "I try to get my employees involved in all tasks and empower them to overcome challenges – I see myself as more of a coach than a boss," says Hamid. The experience he gained before joining Schaeffler – in strategy and management consulting, setting up startups, developing new customer processes, and developing software – helps him in this. He has been responsible for organizing the digital transformation of the Automotive Aftermarket division since 2017.
The digitalization strategist
Purchasing, Transmission Systems, Clutch Systems, Friction Linings, Business Development Automotive – Andreas Kimmig has worked in many parts of the Schaeffler organization, so he is well equipped to drive digitalization in the Automotive Technologies division.
As a digitalization portfolio manager and a member of the Digital Coordination Committee, Andreas created a digitalization network in Automotive Technologies in order to shape the division's digitalization strategy. The focus of the network is on the close integration of processes with digitalization.
A roadmap for digital processes
Andreas and his team are motivated by the desire to make the Automotive Technologies division's transformation a success. They want to harness the potential of digitalization in order to create maximum added value – for the division's products and processes, but also for its employees. In concrete terms, this means efficiency gains through end-to-end optimization in the digital value chain. Equally importantly, it involves the use of cyber-physical equipment in the production plants, collaborative data sharing with partners, and smart mechatronic products.
"Together with the enterprise architecture team, we're systematically analyzing all dimensions of digitalization – IT systems, data, and processes. Based on that, we're formulating our digitalization roadmap and developing the next projects." The Sales – Processes & Tools team has been focusing on digitalization for a long time and is actively driving it forward in Sales.
Andreas started at Schaeffler in 2011 as a management trainee in Sales in Bühl. He has been the head of the Business Development – Automotive Technologies department since 2018, picking up responsibility for the division's digitalization activities in 2021. His strong affinity for IT and matters digital goes back to his studies in business management and industrial engineering – and especially to his stints at an IT company and in the IT department of the Fraunhofer Society.