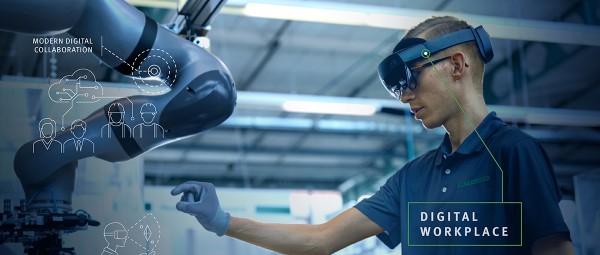 Digital ambassadors: Digital Workplace & Competencies
Schaeffler is developing innovative, efficient digital workplace solutions to support employees in all roles, divisions and regions – any place and any time. At Schaeffler, the digital workplace provides a tailored, intuitive user experience as well as agile and efficient collaboration solutions. Flexible working with the aid of versatile tools also demands the requisite digital expertise from the company's employees. Our digital ambassadors Franziska and Pin show us how they are driving the digital transformation forward.
The expert in digital competencies
We should see digitalization as an opportunity – Franziska Gerner took this piece of advice quite literally. Studying for a Bachelor of Laws and Master of Arts in Management degree, Franziska initially saw her future being in HR. But there was also something else that fascinated her: Franziska is what is now known as a "digital native". This is someone who has grown up in a world of data and apps, and who has developed a truly innovative and pioneering spirit thanks to digitalization. Franziska is now putting this passion and fascination for the new to good use at Schaeffler, where she is actively shaping the company's digital transformation.
Franziska Gerner decided to change her career and started her journey in this field "with a healthy portion of respect" as a Design Thinking Coach, before switching to Strategic Digitalization, then taking over as Head of the new Digital Competencies department in April 2022.
Powering the transformation
"Digitalization is a transformation that won't be pushed on by technology (alone); people will have an enormous part to play too," explains the digital expert. Schaeffler's guiding principle when it comes to digitalization is that the human aspect will be the driving force behind a successful and sustainable digital transformation within the company. "To achieve this we need a different, a new mindset – and new skills. Technology helps us to make our work easier so that we can focus on the really valuable stuff. Technology answers the 'how', but it's people who give us the crucial 'why'." Franziska's department is all about adapting the required skills and competencies to match the culture and mindset of digital progress.
In doing her day-to-day work, which she finds "different, exciting, and inspiring every day," there is one motto that Franziska, who is also a fitness trainer in her spare time, swears by: "Think, shape, and act digitally."
The digital story maker
Where better to look at how digitalization is helping to shape business and drive success than China, a country where everyday life has become increasingly digitized? From apps for on-the-go payments to mobile solutions for workplace functions, the shift to digital is fueling the growth of this major economy – and Schaeffler's success. Like any groundbreaking change, digitalization is a joint and collaborative task driven by functions, divisions and regions. In Schaeffler's Greater China region, Pin Gu is helping to implement a digital roadmap that will streamline the group for global digital success.
With an educational background in Germany, Chinese native Pin brings all the skills required to foster a multi-cultural working environment. Freshly graduated from Bayreuth University with a degree in business management under her belt, Pin joined Schaeffler as an assistant to the CEO Asia Pacific in 2009 and in 2014 was appointed manager of Strategy and Program Office at IT & Digitalization Greater China.
Directing the digital roadmap
Her mission is to roll out Schaeffler's global digitalization roadmap framework and contribute to success by delivering the four key elements: digital product services, digital synergies across functions and divisions, digital resilience, and digital regional customer needs. These are the key drivers and headlines the strategy team promotes and strives to implement across the region.
Pin's team plays a dual role in implementing the digitalization roadmap in Greater China, which she describes as "digital story makers and digital story tellers." In the story maker role, they are actively engaged in concrete IT/digital initiatives and projects, working closely with business partners and customers. As "story tellers," the team also rolls out and broadcasts the digitalization roadmap framework, the digital agenda and digitalization maturity index in the region, for instance through global training provided by the team's Fit4Digital program. The team also ensures that regional digitalization endeavors can be recognized and easily consolidated in the global roadmap.
"To actively drive, enable and witness this transformation is the biggest motivation for me and my team," says Pin, who relishes the diversity of tasks her position offers. And, after a busy week spent contributing to the group's digital success, Pin likes to relax with a very analog activity: cooking delicious meals for her family.