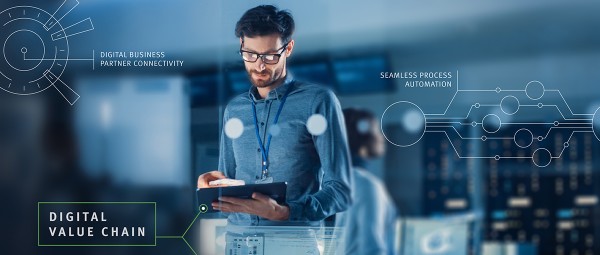 Digital ambassadors: Digital Value Chain & Data Science
The digital value chain is opening up new opportunities for Schaeffler and its customers. Numerous colleagues from all possible fields are working on the seamless and secure end-to-end integration of processes. Johannes and Balaji tell us what motivates them in this task.
The expert in data- and AI-driven solutions
In what areas can data and artificial intelligence (AI) help an automotive and industrial supplier like Schaeffler to tap into efficiency potential? In development and production, of course. But as far as Dr. Johannes Kröckel is concerned, those are just two of the many departments within a company that can benefit from digitalization.
A whole host of opportunities for sales, HR, and finance
"A whole host of opportunities are opening up for Schaeffler in administrative spheres too. In sales, we can analyze existing data to provide offers that are tailored to our customers' needs even more precisely and even faster. Whereas in HR, data analyses help us to tune in better to the needs of our employees, so in future we will really be able to tap into their potential and develop further training programs for them. In operations, a key focus is to optimize supply chains," explains the data expert. Schaeffler is developing its own tools in this area as well. Solutions like the Transportation Data Cube or the Supply Chain Database collect, standardize, and link millions of pieces of data from our global logistics networks. Which means users are able to process complex logistics orders on screen as easily as booking a trip online.
Johannes Kröckel started out at Schaeffler as a Data Scientist in 2016, taking on the leadership of the Data Science & AI department two years later. On making the switch to become a Product Owner Custom Data & AI Solutions in 2020, Johannes' focus widened from carrying out pure data analysis to developing comprehensive software solutions.
Due to its use of AI and ever more powerful hardware, Schaeffler processes huge volumes of data nowadays. One example are the highly complex forecast algorithms that predict requirements. "We use historical data to identify seasonal fluctuations and other distinctive patterns. We then combine these findings with forecasts of upcoming market movements to produce reliable simulations. This wasn't possible to this level of detail in the past," says Johannes.
"We rely on the SCRUM agile development method and derivations thereof to develop our software solutions. This means that, in contrast to the traditional way of doing things, we do not use fixed specifications to describe software from the outset; rather, we regularly review, rethink, and, where applicable, redesign our developments in close cooperation with the departments. Which requires great collaboration and communication within the team, as well as with stakeholders."
Harnessing AI for digital success
Artificial Intelligence – AI for short – is rapidly advancing and increasingly becoming necessary in industries that were once cautious about using it. Its impact is changing the way we do business and even live our lives. As Lead Data Scientist for the Americas, Balaji Chandrasekaran is driving Schaeffler's digital vision by leveraging data science and AI initiatives across the region.
For Balaji, who joined Schaeffler after working at a medical device startup in California and completing an MBA program with a focus on Data Science and Digital Transformation, joining Schaeffler proved to be a challenging, captivating, and transformational journey. "I had the privilege of spearheading notable projects such as the Ball Inspection System, Noise Detection, Component Matching, and the BearingXpert mobile app, all of which leveraged the power of AI and digital technologies," he explains.
Next-level digital transformation
His team's core focus on AI, data science, and data analytics has been instrumental in driving the digital transformation within the regional organization. From building the necessary infrastructure to establishing a business strategy centered around hybrid products that combine both physical and digital elements, its efforts have been critical to Schaeffler's continued growth and competitiveness in the market.
By building the foundation for a hybrid product portfolio and implementing data-driven solutions for cost optimization and revenue growth, Balaji's team has helped position the company for continued success in the digital age. As AI continues to experience explosive growth, staying motivated and continuously learning is crucial for both individuals and teams alike. Regular knowledge-sharing sessions and a commitment to encouraging open collaboration allow them to inspire one another and build confidence as a team.
"Our approach is simple yet effective: we learn and grow together," explains Balaji. This collective spirit keeps the team motivated, engaged, and always eager to take on new challenges. There's no such thing as an ordinary day at work for Balaji, which makes the work uniquely challenging and rewarding. Balancing research, coding, managing projects, and mentoring juniors and peers is incredibly fulfilling and allows him to pass on learnings and make an individual impact – as well as contributing to business goals.