Schaeffler at EMO 2023 in Hall 7, Booth A10
New L7 linear motor series achieves top values in energy efficiency and dynamics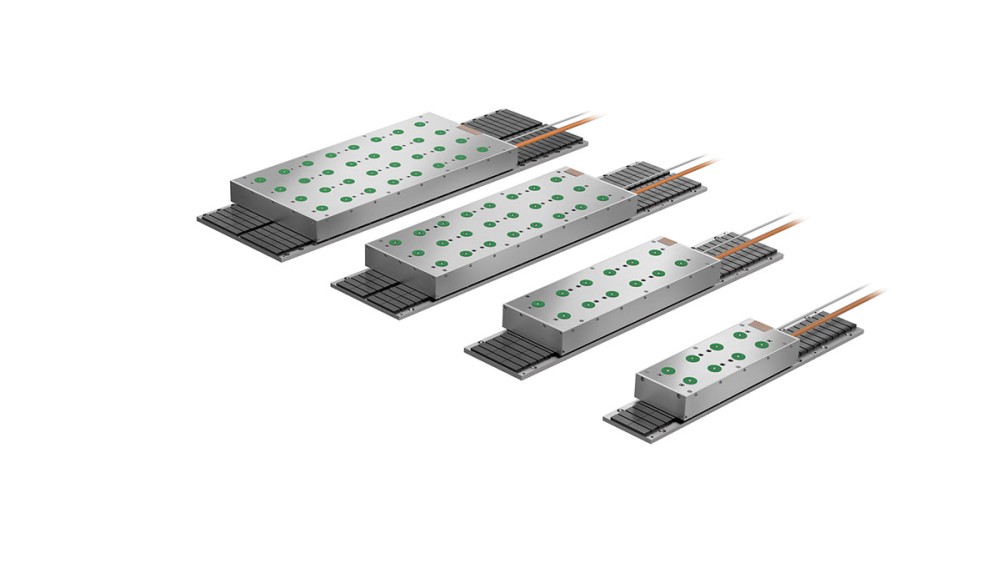 2023-09-18 | Schweinfurt
Power loss reduced by up to 50 %: L7 linear motors offer particularly low operating costs
Up to 40 % more nominal force: Significantly shorter machining cycles achievable with L7 linear motors
Higher machine accuracy due to reduced warming of motor and machine base
For many years, Schaeffler has supplied water-cooled, iron core linear motors of series L1 with peak forces of up to 5,171 N. With the new L7 series, Schaeffler is expanding its range of linear motors with peak forces of up to 24,300 N. This means that Schaeffler linear direct drives can now be used much more widely in handling systems and the main axes of machine tools.
L7 – The benchmark for efficiency and power density
By optimizing the copper windings, heat transfer, and cooling circuit, development engineers have been able to achieve a reduction of up to 50 % in the power loss with the same drive force or an increase of up to 40 % in the nominal force with the same power loss compared to the current benchmark. While motors with optimized peak force or power loss characteristics are already offered on the market, the L7 linear motor thus combines both these strengths and offers an outstanding acceleration capacity, while remaining significantly cooler. This allows a significant reduction in the operating costs and a considerable increase in productivity. The L7 motor demonstrates its strengths particularly in the case of continuous oscillating motion where extremely high accelerations are required and the motor is continuously heated: The high acceleration capability reduces the cycle times and the high energy reserves ensure high contour accuracy of the workpiece. Due to the very low power loss, less heat is introduced into the machine bed, which also has a positive effect on the overall accuracy of the machine.
The perfect motor configuration for every task
The L7-series of linear motors comprises twelve motor sizes in the four secondary part widths of 100, 150, 200, and 300 mm and the three lengths of 350, 500, and 650 mm.
Alternatively, the high energy reserves can be used for downsizing. The reduced moving mass has a positive effect on the dynamic behavior. The dimensions of the motors were selected so that existing axis designs in milling, turning, and grinding machines, as well as in laser machining, can be converted with little outlay.
Publisher: Schaeffler Technologies AG & Co. KG
Country: Germany
Share Page