Schaeffler Introduces Employer Branding Campaign to Launch the New Employer Brand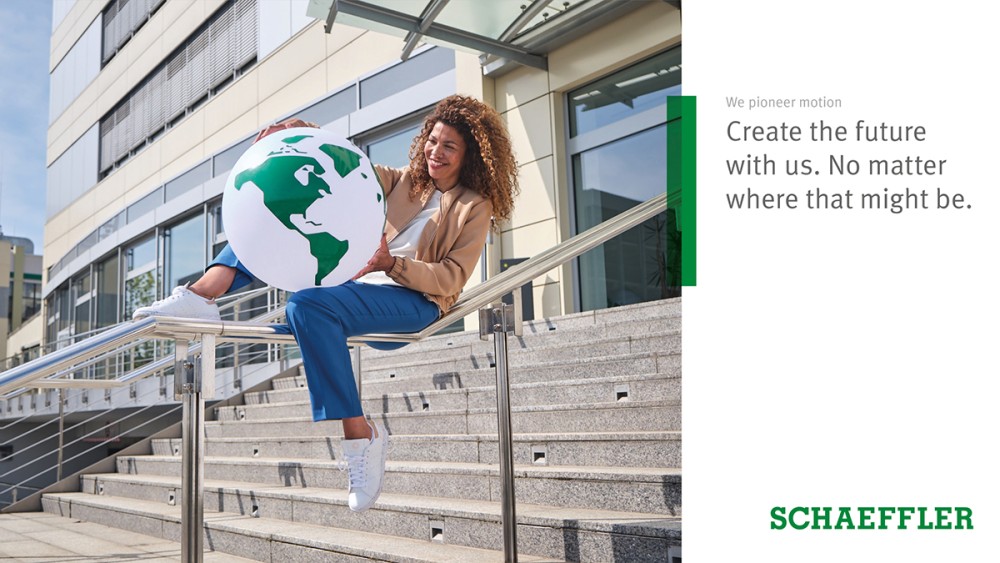 2022-06-14 | Herzogenaurach
Schaeffler employer brand to be strengthened worldwide
Recruitment of new talent essential for future company success
Campaign rollout to begin in nine countries
Schaeffler is positioning itself in the global arena to attract new talent and is today launching its employer branding campaign. The goal is to make Schaeffler more well known as an attractive, innovative employer and strengthen its image as an employer worldwide, both among employees and potential applicants.
"Drive your career" – as the pledge made by the employer brand – is to be the promoting and identifying force behind the brand – We pioneer motion to advance how the world moves. Since employees can shape their career paths responsibly at Schaeffler, digitalization and sustainability are at the forefront of the campaign, and highlight Schaeffler's role in the transformation as global automotive and industrial supplier.
"An employer brand which has a strong and attractive presence worldwide is crucial to keeping the company's employees on board, acquiring new talent for Schaeffler, and retaining this talent for the company. Strengthening the brand is therefore a key component of our Roadmap 2025. The motifs reflect Schaeffler's strategy and both its innovative and sustainable working environment, and intentionally build on the company's successful image campaign. Both concepts have been devised in conjunction with lead agency RTS Rieger Team, a subsidiary of the global TBWA Group," explains Nadja Lemke, Head of Global Branding & Corporate Marketing.
Five Target Groups
The corporate culture of the Schaeffler Group has always been characterized by long-term thinking and responsible actions.
With its products, Schaeffler already contributes today to moving and making the world more sustainable, safer, and smarter. For example, the company will be climate-neutral by 2040. Internal production will operate with net zero greenhouse gas emissions as early as 2030.
Precisely this is what is conveyed by the new campaign, which initially will concentrate on five target groups – high school and college/university students, data and IT specialists, engineers, and experts from various areas – and be primarily delivered using digital channels and social networks.
At the heart are a total of 15 motifs and headlines, which have been specifically aligned to the target groups and which represent the company's products and technologies combined with people. They also give an impression of the diverse and modern working world of the global automotive and industrial supplier.
Rollout in Nine Countries
"The labor market has changed fundamentally in recent years and is especially tight in the IT sector. The high demand for qualified workers is now a major challenge for companies. Schaeffler is an attractive employer that, with its unique corporate identity, stands worldwide for stability and innovation in equal measure, offers employees manifold development opportunities, and sustainably moves the world. It is precisely these strengths that we are bringing into focus with the new campaign to attract talent and skilled workers around the world and drive the transformation forward together," says Patrick Wilhelmi, Head of Leadership, Recruiting and Talent Management at Schaeffler.
The campaign rollout will begin with nine countries – Germany, China, Mexico, Hungary, Brazil, India, Poland, Slovakia, and USA. Over the course of the year the campaign will be started in additional markets.
Publisher: Schaeffler AG
Country: Germany
Share Page