April 1 - 5 | Hall 22, Booth D43
Schaeffler at the Hannover Messe 2019
Smart solutions from the component to the cloud
Simply better performance
"Industrial Intelligence" is the motto of the Hannover Messe 2019. Visitors to our trade show booth can gain a live insight into what this can mean in practice, including smart solutions that make it easy to increase the performance of your machines and equipment and to reduce operating costs.
From individual rolling bearings through to ready-to-fit Industry 4.0 packages, every Schaeffler solution is packed with our globally unique expertise. We always keep your entire system in mind here in order to ensure that you benefit from products and services that perfectly match your applications and processes.
High-performance bearings
Increase the productivity of your machines – with rolling bearings made from high-performance materials, for example.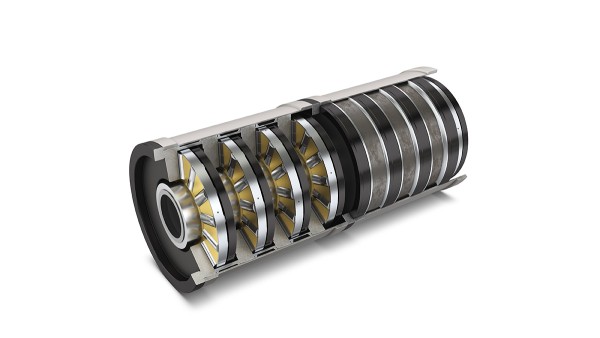 Carbonitrided Mancrodur – downsizing for extruder gearboxes
Reduced operating costs for extruder gearboxes. Our rolling bearings made from the new high-performance carbonitrided Mancrodur material make this possible by significantly extending the service intervals. Thanks to their superior load ratings, these bearings increase the gearboxes' power density and make downsizing possible.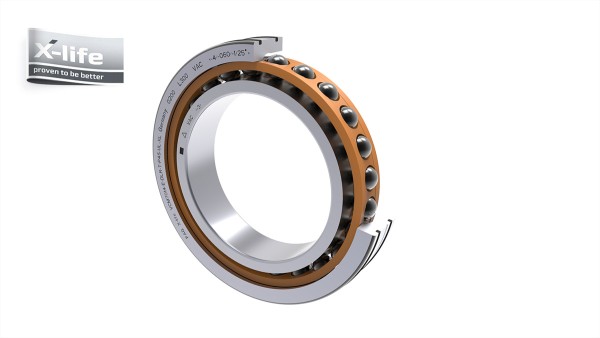 Spindle bearings made from Vacrodur – top performance for machine tools
Spindle bearings with rings made from Vacrodur are resistant to temperatures of up to 400 °C, can be used up to 25 times longer under mixed friction conditions, and are perfectly suited to very high speeds. This allows machine tools to achieve an entirely new performance dimension with maximum productivity, operating life, and reliability.
Ready-to-install systems
Simplify your mounting and logistics processes with ready-to-install systems for your application.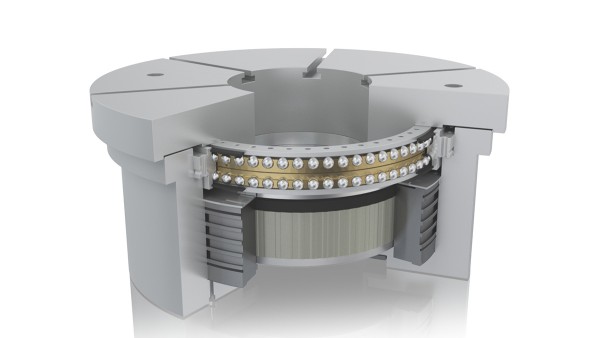 Modular rotary table bearing/torque motor system – for cost-saving plug-and-play solutions
Our ready-to-install modules for rotary axes and rotary tables are available with a range of different torque motor and rotary table bearing combinations. This optimum combination is adjusted by Schaeffler's engineers to match each individual customer's cutting process and deliver exactly the required precision and dynamics.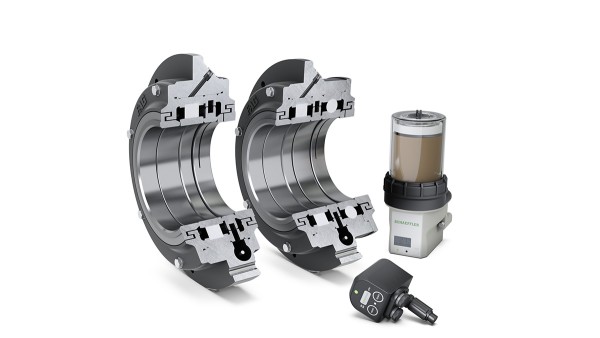 Flanged housing units for electric motors – compact all-in-one solutions
Our precisely matched flanged housing units provide electric motor manufacturers cost-effective complete solutions that comprise rotor bearing supports, lubrication systems, seals, and housings. Even condition monitoring can easily be integrated thanks to the optionally available Schaeffler SmartCheck range.
Scalable 4.0 solutions
Optimize maintenance and availability in your machines with expandable Industry 4.0 packages.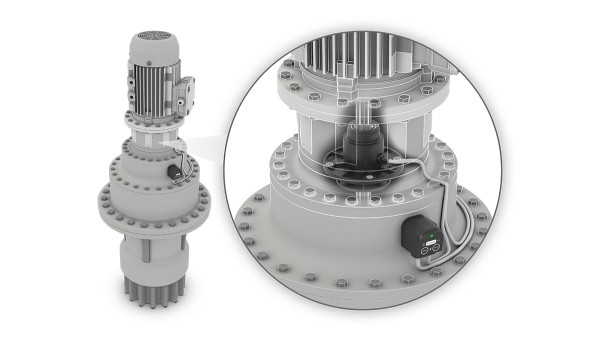 TorqueTracking system – an innovative monitoring solution for adjustment gearboxes
Our TorqueTracking system is a compact solution for recording and pre-processing the relevant operating data from adjustment gearboxes: Torque, speed, vibrations, and temperature. Failures caused by overloading can thus be reduced and maintenance lead times extended.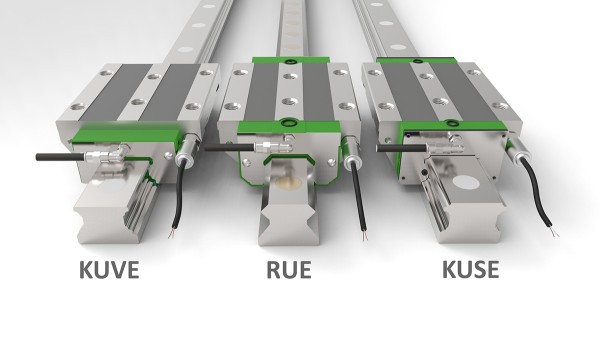 DuraSense – perfect automatic lubrication for monorail guidance systems
Through a combination of integrated condition monitoring and automatic relubrication, DuraSense increases machine availability, allows maintenance to be planned, and reduces lubricant consumption. Our LifetimeAnalyzer digital service also allows the remaining useful life of linear guidance systems to be calculated.
News
Simply more innovation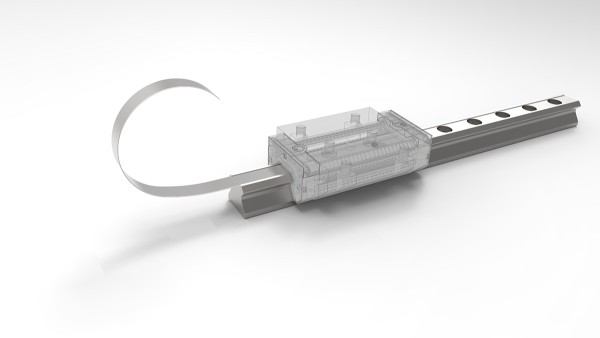 New sealing technology for monorail guidance systems – for simple and professional mounting
Our newly developed steel cover strip is simply slid into a groove in the profiled guide rail and fixed in place using a screw. It is reusable and reduces the mounting time during initial operation and maintenance by up to 90%. What is more, the new closing plugs can be mounted in a matter of seconds: Insert, drive in, and the job is done.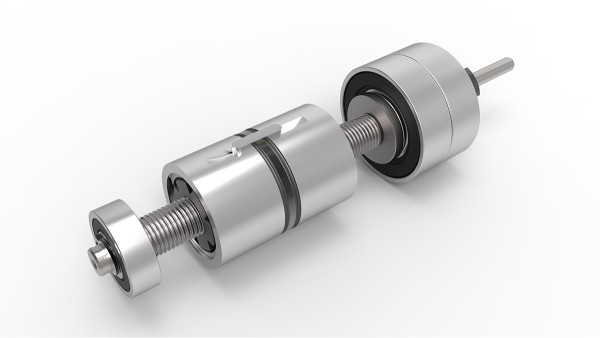 Planetary screw drive – for linear actuators with outstanding power density
Our planetary screw drive (PWG) offers the optimum basis for downsizing in linear actuators: A very small overall pitch and a high number of rolling contacts with a high load carrying capacity. Schaeffler now also offers electromechanical actuators based on the PWG.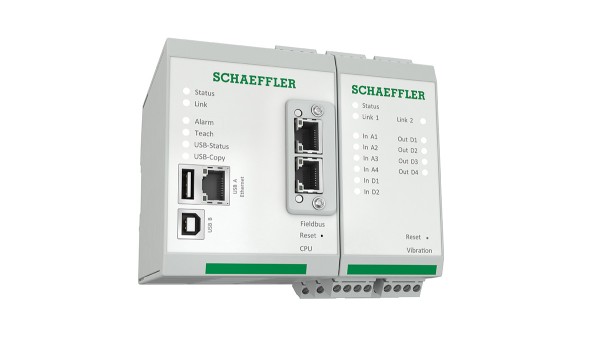 Multi-channel CMS for switch cabinet mounting – suitable for use in every infrastructure
At the Hannover Messe, Schaeffler will be presenting its new condition monitoring system for switch cabinet installation, featuring a plug-in field bus module that ensures simple integration into every customer's infrastructure. The modular design also means that sector-specific customer solutions can be implemented in the future.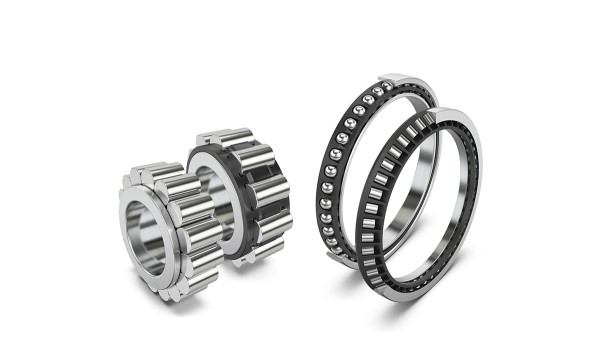 Interchangeable bearing solutions – cost-reducers for modular gearbox systems
We offer a range of rolling bearing designs in identical dimensions for different modular gearbox systems. These interchangeable bearings make numerous gear, shaft, and housing variants superfluous. The advantage: Higher quantities, lower unit costs, and shorter delivery times.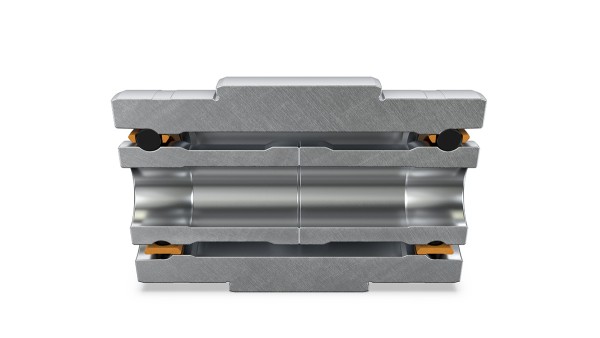 Maintenance-free bearing cartridges for turbo compressors – for reduced costs and increased energy efficiency
Our maintenance-free bearing cartridges for turbo compressors are small, light, and very energy-efficient thanks to downsizing. These ready-to-install systems reduce costs and are suitable for a wide range of high-speed applications.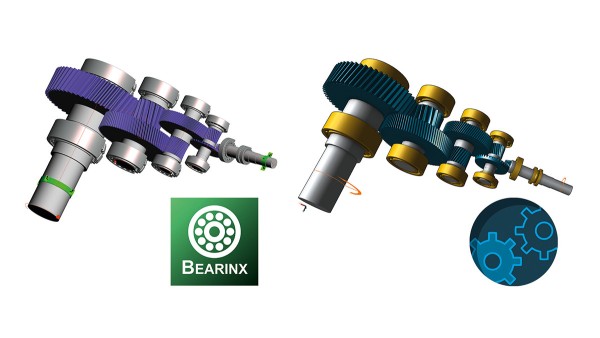 REXS gearbox model – the fast and easy path to digital twins
Thanks to the integration of the new REXS (Reusable Engineering Exchange Standard) into Bearinx, Schaeffler can now offer gearbox manufacturers a fully digitalized data exchange system for the product development phase. Development is thus made significantly faster and the outlay for digital twins is substantially reduced.
Digital Business Solutions
Simply more online solutions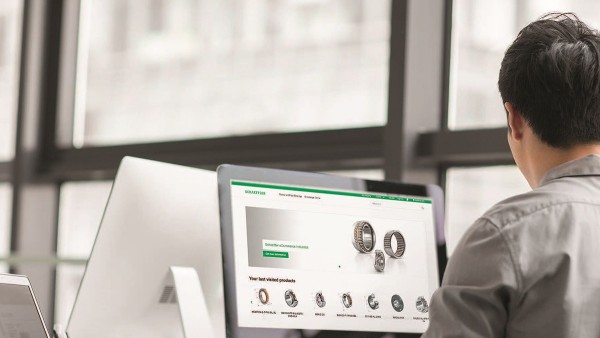 New PIM system – data that are always up to date from an invisible source
Nobody can see it, but you reap the benefits: Our new Product Information Management System (PIM) is a source of comprehensive product data that are always up to date, including CAD models and further information. This means that we can provide individual data exports for our sales partners' catalogs, for example.
Schaeffler eCommerce Industrial – online shopping for direct customers
eCommerce Industrial is the new purchasing platform for direct customers and is now available for an initial selection of European customer groups. More than 40,000 products are available to order online 24 hours a day. In addition to pricing and availability, comprehensive technical information and performance and CAD data are also available from our PIM system.
Schaeffler Store – evolution of the online shop for sales partners
The most important purchasing source for our sales partners has taken a major step forward. The Schaeffler Store now boasts a new design and simplified user navigation that make it more intuitive to use than ever.
Tickets & Contact
Simply better trade show service
Your free visitor's ticket
A hands-on look at our innovations, exciting live demonstrations, and tailor-made solutions for a wide range of applications are all waiting for you at our 600-square-meter trade show booth. To avoid missing out, secure your free visitor's ticket right away. If you have any questions about our products, you can find the right contact partners under "Contact".
InnoServePro
Simply more research
Schaeffler supports research project for higher availability
The InnoServPro joint research project, which is subsidized by the German Federal Ministry of Education and Research (BMBF), is aimed at implementing availability-based business models in the capital goods industry. The basis for this project is provided by innovative services based on intelligent sensor technology and standardized information management. Schaeffler is the consortium leader, and is responsible during the three-year project for analyzing the market potential and requirements for availability-based products and services in the capital goods sector.
The results conference for InnoServPro will take place on April 4 at 9:00 am in Pavilion 26 at the Hannover Messe (conference language: German).
Share Page