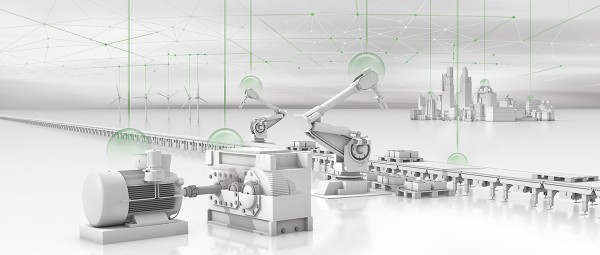 Schaeffler at the Hannover Messe 2019
Review
That was the Hannover Messe 2019
With innovative components, ready-to-install systems, and specific Industry 4.0 solutions, Schaeffler presented various new developments at the Hannover Messe. Here you can watch the highlights.
Visit our virtual booth and take a 360° tour!
Smart solutions from the component to the cloud
Simply better performance
At our trade show booth
Simply a better live experience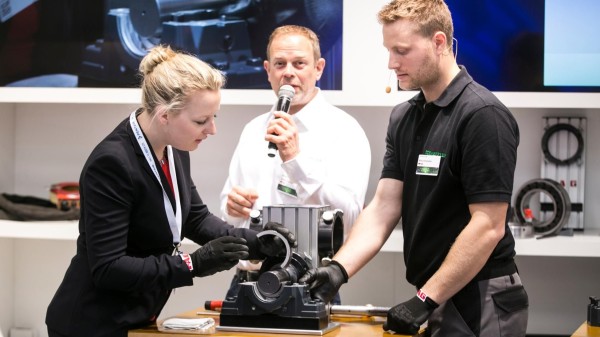 90% shorter mounting times? We will show you how – live!
Some things you just have to see for yourself. How to reduce mounting times by 90% using our new cover strip for monorail guidance systems, for example. Or how to effectively prevent damage by using the Schaeffler GreaseCheck to monitor the condition of bearings' grease. Another live highlight at our booth: How to spot counterfeit products using the OriginCheck app. Be sure to catch these and other exciting live demonstrations, and don't miss the opportunity to come and talk to our experts. We look forward to seeing you!
News
Simply more innovation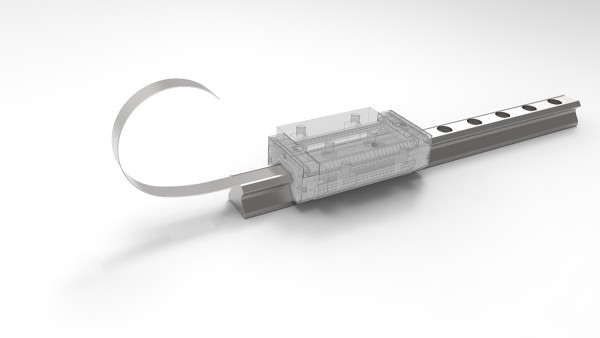 Planetary screw drive – for linear actuators with outstanding power density
Our planetary screw drive (PWG) offers the optimum basis for downsizing in linear actuators: A very small overall pitch and a high number of rolling contacts with a high load carrying capacity. Schaeffler now also offers electromechanical actuators based on the PWG.
Publication: P.ACT linear actuators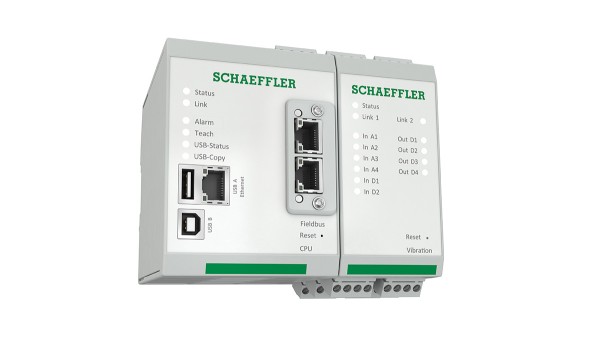 ProLink CMS for switch cabinet mounting – suitable for use in every infrastructure
At the Hannover Messe, Schaeffler will be presenting its new condition monitoring system for switch cabinet installation, featuring a plug-in field bus module that ensures simple integration into every customer's infrastructure. The modular design also means that sector-specific customer solutions can be implemented in the future.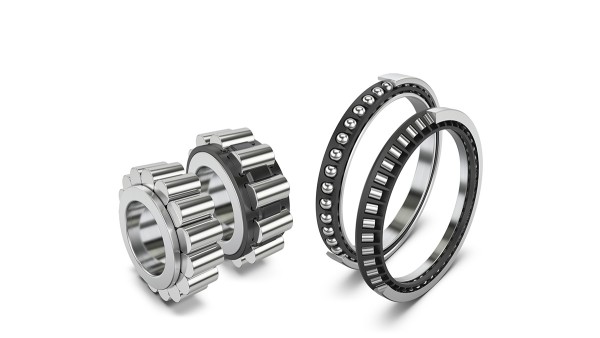 Interchangeable bearing solutions – cost-reducers for modular gearbox systems
We offer a range of rolling bearing designs in identical dimensions for different modular gearbox systems. These interchangeable bearings make numerous gear, shaft, and housing variants superfluous. The advantage: Higher quantities, lower unit costs, and shorter delivery times.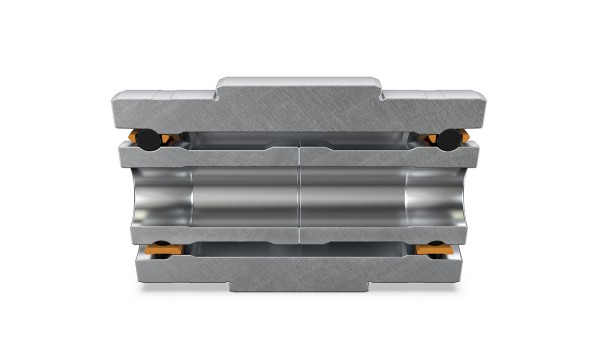 Maintenance-free bearing cartridges for turbo compressors – for reduced costs and increased energy efficiency
Our maintenance-free bearing cartridges for turbo compressors are small, light, and very energy-efficient thanks to downsizing. These ready-to-install systems reduce costs and are suitable for a wide range of high-speed applications.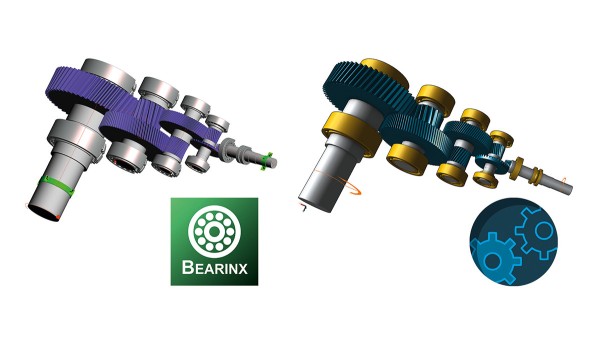 REXS gearbox model – the fast and easy path to digital twins
Thanks to the integration of the new REXS (Reusable Engineering Exchange Standard) into Bearinx, Schaeffler can now offer gearbox manufacturers a fully digitalized data exchange system for the product development phase. Development is thus made significantly faster and the outlay for digital twins is substantially reduced.
Case study: Sawmill
Simply greater reliability
"Suddenly, the whole facility was at a standstill"
Schaeffler products help to prevent unplanned system downtimes worldwide. This was also the case in Sweden, the partner country of the Hannover Messe 2019. One example is the monitoring of machines in a sawmill using Schaeffler SmartChecks. "That came about after one of our main motors failed", explains operator Mikael Eriksson. "Suddenly, the whole facility was at a standstill. A downtime of this kind costs us about 30,000 Swedish kronor (approx. 2,850 €) per hour. With the SmartChecks, we now immediately know when something is not right, and we take appropriate measures before problems arise." With the help of an exhibit at our trade show, we will demonstrate what the Swedish solution looks like.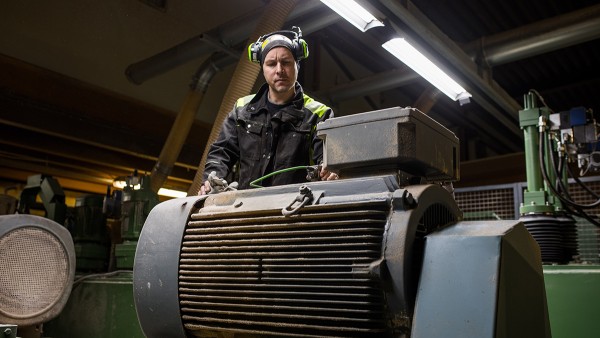 Digital Business Solutions
Simply more online solutions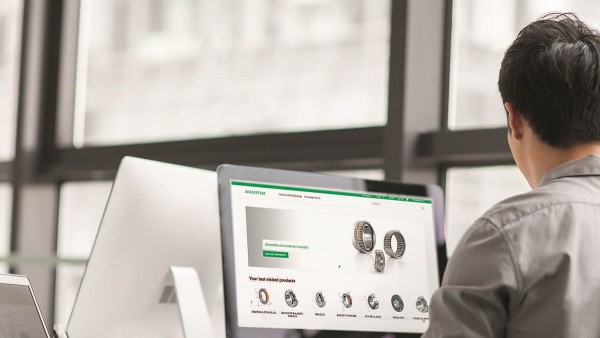 New PIM system – data that are always up to date from an invisible source
Nobody can see it, but you reap the benefits: Our new Product Information Management System (PIM) is a source of comprehensive product data that are always up to date, including CAD models and further information. This means that we can provide individual data exports for our sales partners' catalogs, for example.
Schaeffler eCommerce Industrial – online shopping for direct customers
eCommerce Industrial is the new purchasing platform for direct customers and is now available for an initial selection of European customer groups. More than 40,000 products are available to order online 24 hours a day. In addition to pricing and availability, comprehensive technical information and performance and CAD data are also available from our PIM system.
Schaeffler Store – evolution of the online shop for sales partners
The most important purchasing source for our sales partners has taken a major step forward. The Schaeffler Store now boasts a new design and simplified user navigation that make it more intuitive to use than ever.
Topics and trade show booth
Simply more information
Press kit Hannover Messe 2019
Press releases and multimedia content regarding the topics that Schaeffler will be presenting at the Hannover Messe can be found in our press kit.
InnoServPro
Simply more research
Schaeffler supports research project for higher availability
The InnoServPro joint research project, which is subsidized by the German Federal Ministry of Education and Research (BMBF), is aimed at implementing availability-based business models in the capital goods industry. The basis for this project is provided by innovative services based on intelligent sensor technology and standardized information management. Schaeffler is the consortium leader, and is responsible during the three-year project for analyzing the market potential and requirements for availability-based products and services in the capital goods sector.
Share Page