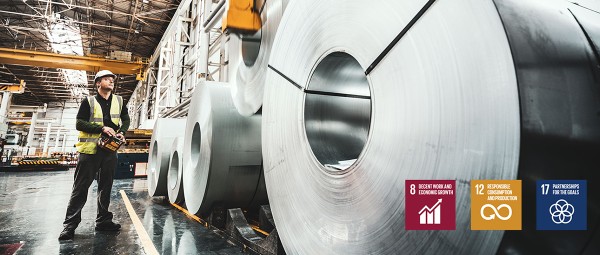 Suppliers and materials
Looking at the supply chain
Supplier management requirements have expanded beyond a globally connected world. Modern technologies are requiring raw materials that often come from unstable regions in the world. Climate change is also having an impact on supply chains. We view sustainable procurement, which applies to the responsible use of critical materials, human rights, and environmental and social standards, as key to integrity-based governance.
The fundamental values that shape supply chain requirements are based on internationally recognized standards and principles, which are also anchored in the Schaeffler Group's Codes of Conduct. To reinforce these values, we rely first and foremost on active communication with all of our business partners, effective monitoring, and assessments. For instance, rather than sourcing conflict minerals, we work with certified suppliers.
Our supplier and raw material activities contribute to the following Sustainable Development Goals (SDGs): "Decent Work and Economic Growth" (SDG 8), "Responsible Consumption and Production" (SDG 12), and "Partnerships for the Goals" (SDG 17). Our strategic target is to source 90 % of the purchasing volume of production materials from suppliers with sustainability self-assessments by 2022.
Human Rights Due Diligence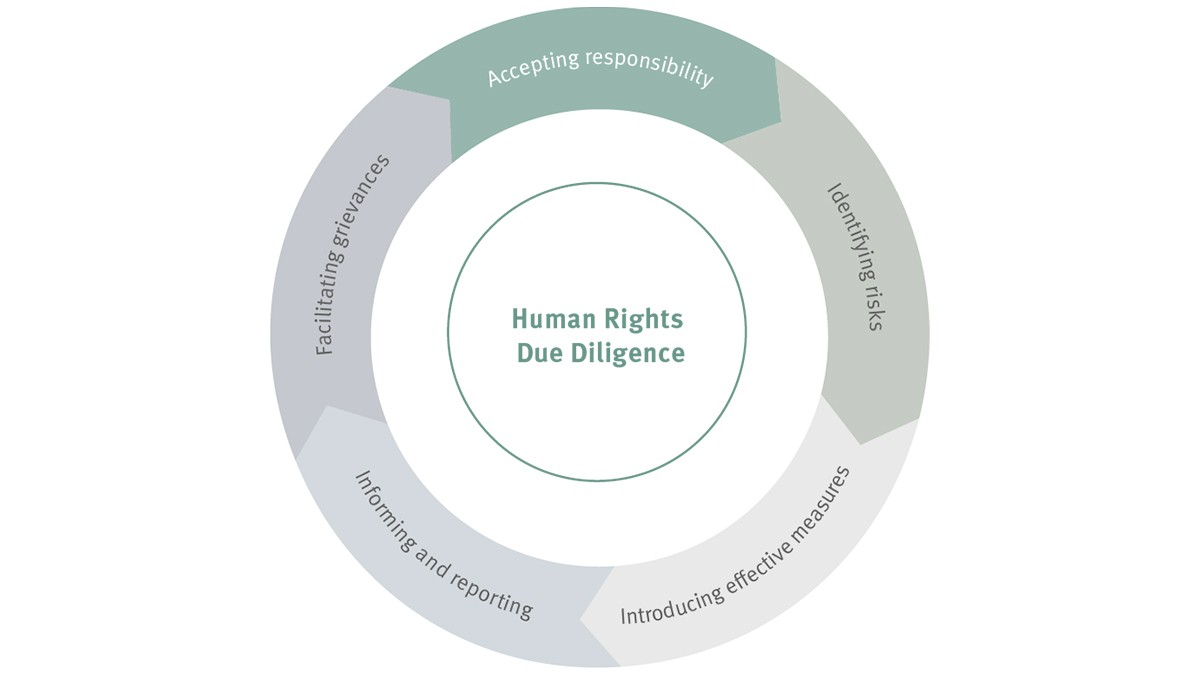 The Schaeffler Group is a global family business with a strong foundation in its values. Respect for human rights is an indispensable part of corporate responsibility.
1) Accepting responsibility
We reject any form of human rights violations such as child and forced labor or discrimination based on racial/ethnic origin, color, or gender. This claim applies to all of the approx. 200 Schaeffler locations as well as to all business partners and goes beyond compliance with local legal provisions. Respect for human rights is part of the group-wide Code of Conduct (CoC) and the Schaeffler Group's Supplier Code of Conduct (SCoC).
2) Identifying risks
Elements for managing risks associated with human rights violations are developed and coordinated by the Sustainability department. In 2020, we have prepared for the launch of an enhanced management system for human rights that calls for a human rights impact assessment. Moreover, we made arrangements to launch future processes and systems for the purpose of identifying human rights risks in the supply chain. These processes and systems are based on a variety of components, including the ramp-up of the self-assessment questionnaires (SAQs) on the NQC platform.
3) Introducing effective measures
In an effort to increase the analysis of human rights risks, we are also systematically implementing measures to prevent or mitigate potential or actual human rights violations in the future. This includes activities within the Schaeffler Group and throughout the value chain. The existing Energy, Environment, Occupational Health & Safety processes in the EnEHS management system will be expanded to include measures to promote human rights due diligence in accordance with ISO 26000. In the future, the risk analysis process and stakeholder consultations will also allow us to regularly assess the effectiveness of the measures defined in the management system and make any necessary changes.
4) Informing and reporting
The Schaeffler Group routinely reports on the status of the human rights compliance system and current topics related to human rights. In addition, as required by the Modern Slavery Act, we demonstrate our commitment to protecting human rights along our value chain on an annual. Moreover, we inform our Stakeholders through the Sustainability Report.
5) Facilitating grievances
In 2020, we expanded the global compliance whistleblowing system to include human rights. The system provides company employees as well as any third parties affected with a confidential, encrypted and secure form of communication. Incoming hints are assessed by a team consisting of compliance and sustainability employees, incorporating the whistleblower in the process if possible. When a case of violation is confirmed, corrective measures are introduced.
---