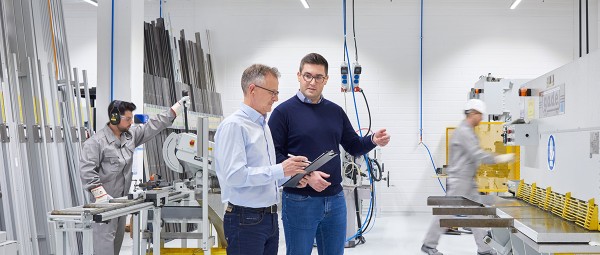 Corporate management with integrity is the basis for all business activities of the Schaeffler Group. We expect the same from our business partners. Sustainable management includes compliance with standards in our own company in relation to society, human rights and the environment, as well as the implementation of appropriate diligence processes in the supply chain. In addition, effective corporate governance means responsible corporate management focused on adding long-term value.
Responsibility in the supply chain
Responsible management of the supply chain means strengthening the awareness service providers and suppliers have of the requirements and expectations placed on them, as well as systematically monitoring and testing compliance with these conditions. One essential part of responsible supply chain management is the Schaeffler Group's Supplier Code of Conduct. This code establishes obligations related to society and the environment for suppliers and service providers.
Diligence in respecting human rights at Schaeffler
Respect for human rights is an integral part of the corporate responsibility of the Schaeffler Group. Schaeffler is repeatedly and continually further developing and improving its process for fulfilling its due diligence to respect human rights within its value chain because the Schaeffler Group's complex international value chain exposes the Group to a certain level of risk of being confronted, either directly or indirectly, with violations of law or human rights.
The company's acceptance of responsibility and the corresponding due diligence processes with regard to human rights issues are oriented toward the UN Guiding Principles on Business and Human Rights, the National Action Plan (NAP) for Business and Human Rights, the ten principles of the United Nations Global Compact (UNGC), and the Modern Slavery Act (MSA).
The modern slavery statements of the Schaeffler Group can be found at:
www.schaeffler.co.uk/sustainability/msa
www.bardenbearings.co.uk/code_of_conduct
Schaeffler's manner of conducting business is fundamentally based on integrity, fairness and mutual respect. Corporate governance stands for responsible corporate management focused on adding long-term value. The structure of governance should enable early recognition of risks that threaten the Schaeffler Group's existence or development.