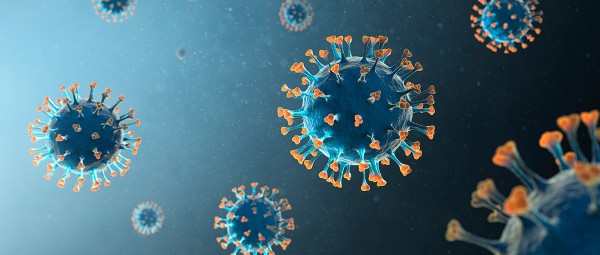 Schaeffler is helping in Corona crisis
How can we help? This is a question many people are currently asking – including at Schaeffler. Here are some examples from around the world.
Schaeffler starts in-house production of face masks
Production of face masks at Taicang location in China has started
Schaeffler has started an in-house production of face masks at its Taicang location in China. The first of its kind at Schaeffler. The masks are currently planned for distribution to Schaeffler employees, as one of a series of important measures taken by the company to protect the safety and health of its employees during the fight against the epidemic. The assembly line will ensure a consistent and reliable supply of face masks.
35,000 pieces a day
Prompted by the global demand in face masks and supply constraints in the market, Special Machinery Greater China set up a fully automatic assembly line for face masks, running at a current capacity of 35,000 pieces a day. Following further optimizations, production capacity is expected to reach 90,000 pieces a day by late June.
Completed over a period of five weeks, from planning to start of production, the assembly line is producing triple-layered, standard disposable face masks and providing a reliable supply of masks, in line with medical industry standards. The core of the assembly line is an ultrasonic welding machine that was purchased and optimized locally to fit the desired manufacturing parameters and operation efficiency.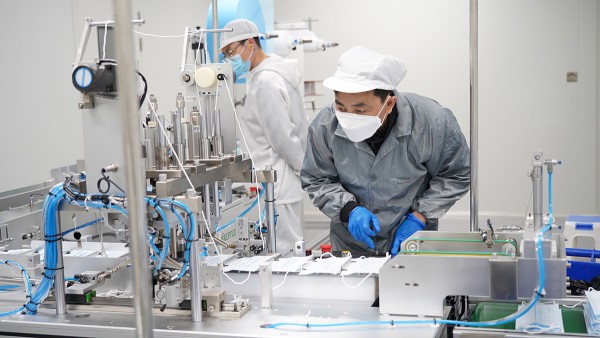 Schaeffler donates to Red Cross
One million Euro for the fight against COVID-19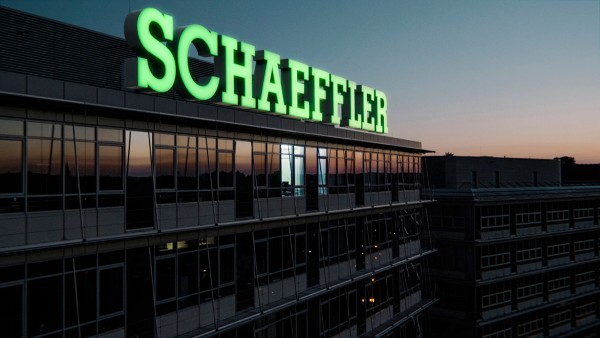 Schaeffler AG and the Schaeffler family, are jointly donating one million euros to the Red Cross to help in the fight against COVID-19.
"We have the greatest respect for all people who maintain our infrastructure with extraordinary commitment in this exceptional situation. With our donation we want to express our gratitude and respect to the doctors and medical nurses who are doing superhuman work in the fight against Covid-19 these days," said family shareholder and Chairman of the Supervisory Board of Schaeffer AG, Georg F. W. Schaeffler.
In February, Schaeffler AG donated 800,000 euros to Chinese first responder organizations and provided support for Red Cross activities in China.
"The corona crisis has assumed global dimensions. In these difficult times we must all do what we can to support the fight against COVID-19," said Schaeffler AG Chief Executive Officer Klaus Rosenfeld. "That is part of our social responsibility."
Mobility for Heroes initiative
Schaeffler supports a project for free-of-charge repairs of ambulances in Romania
As in many other countries, the coronavirus has radically changed people's everyday lives in Romania. A state of emergency has been in force since mid-March – and the health system is facing huge challenges.
Schaeffler is therefore one of the main supporters of the national project "Mobility for Heroes", initiated by the Romanian automotive aftermarket distributor Autonet.
Established as part of the project, a relief fund covers the repair and maintenance costs of ambulances and emergency vehicles of the civil protection service, police, fire departments, and the military in garages throughout the country. In the first weeks, more than 100 vehicles have already been serviced or repaired.
Sorin Poteras, Plant Manager of Schaeffler Romania in Braşov, says: "Schaeffler has a strong social commitment in Romania. With our contribution to this project, we want to make a conscious sign of solidarity and help to ensure the mobile operational capability of those who are particularly challenged in the corona pandemic and are performing extraordinarily."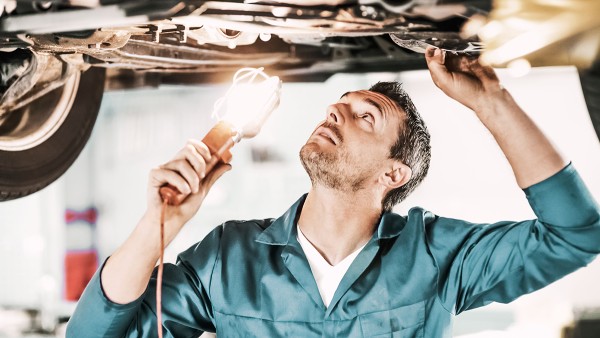 Support for Bavarian Civil Protection Service
Schaeffler produces 50 face shields via 3D printing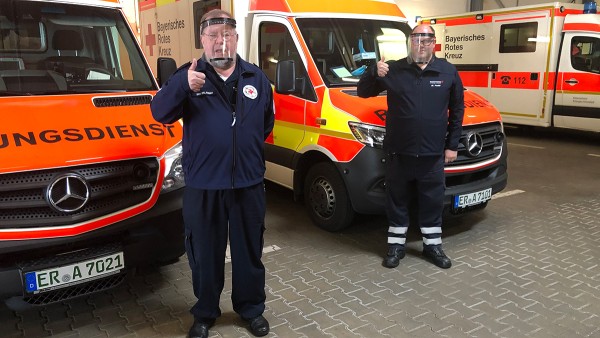 Schaeffler is helping the Bavarian Civil Protection Service in the midst of a shortage of masks and other protective equipment by producing 50 face shields via 3D printing. The production of an additional 150 shields is underway.
When Holger Auernheimer, Head of Special Machinery, Electrical Engineering & IT Solutions & Services, got into conversation with Thomas Heideloff, Civil Protection Commissioner at the Bavarian Red Cross (BRC) District Association Erlangen-Höchstadt, he was told that the organization was in urgent need of protective face shields. It quickly became clear that Schaeffler was in an optimal position to provide help thanks to its manufacturing expertise and free capacities in the field of additive manufacturing.
The practical implementation began as soon as the Board of Managing Directors had approved the project. "In order to keep the design effort to a minimum, we used freeware and then printed the shields at our premises within one day," says Carsten Merklein, Head of Additive Manufacturing at Schaeffler. Holger Auernheimer delivered the first batch to the BRC: "The team was enthusiastic and expressed their thanks to everyone who helped in this endeavor."
The face shields will be used on BRC and ASB emergency ambulances and rescue vehicles in the city and district of Erlangen.
The "Safe Hand" tool
Opening doors and pressing buttons without having to make direct contact
From an idea to production within the shortest possible time – what has always distinguished Schaeffler has also proven itself during the corona crisis: The "Safe Hand" tool helps to further reduce the employees' risk of infection.
While Schaeffler is protecting employees in the most effective way possible through a comprehensive range of precautionary measures in its plants, the company also aims to minimize the risk of infection on the way to work and in everyday life. Opening doors, pressing the elevator button, switching on the light, pushing the shopping cart: Even though droplet infection is the main mode of transmission for corona, there is also a fear of contracting pathogens during activities such as these. The "Safe Hand" can help in this regard. Resembling a bottle opener, it is designed in such a way as to allow buttons and door handles to be used without having to make direct contact with them – which helps to reduce the risk of infection.
Rapid industrialization
To be able to equip as many employees as possible with the "Safe Hand", Schaeffler manufactured an injection mold within just a few days which can be used to produce up to 1,000 such devices in a very short space of time. By now, more than 15,000 "Safe Hand" devices have been distributed at various Schaeffler locations worldwide.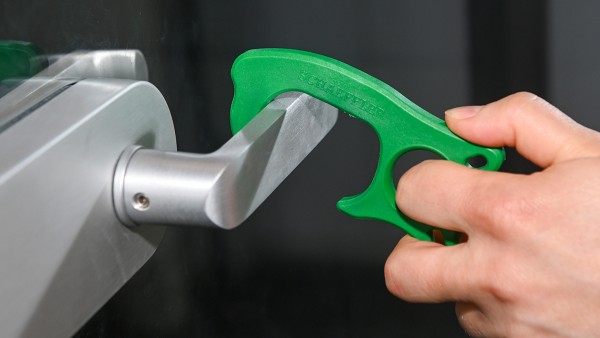 Support for the "Nürnberger Tafel"
Schaeffler donates partition walls for the food distribution area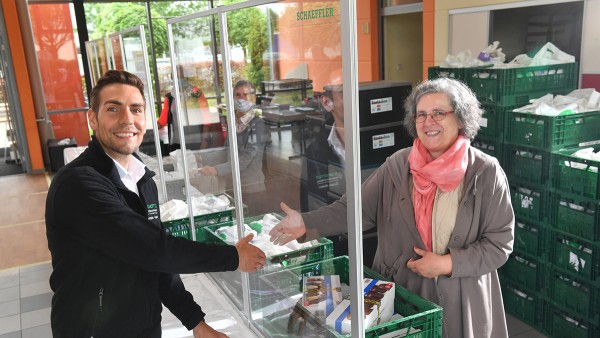 The "Nürnberger Tafel" food bank is there for its customers even in times of corona. Around 6,500 people depend on this food source. Schaeffler supports the organization and most recently donated six partition walls for the food distribution area and the cash desk.
It's hustle and bustle at the food bank in Nuremberg: "Many people come to us to stock up on groceries," says Edeltraud Rager, the food bank's project manager. To keep operations going, processes had to be adapted and safety precautions taken. And this is where Schaeffler comes into play.
The Special Machinery department manufactured five partition walls for the food distribution area and one for the cash desk. Schaeffler employee Simon Abelein was on site to help construct and install the walls. He had contacted the food bank earlier, inquiring about how the company could help quickly and unbureaucratically. "It's great that we are able to help and make a difference with such simple means," says Abelein.
Share Page