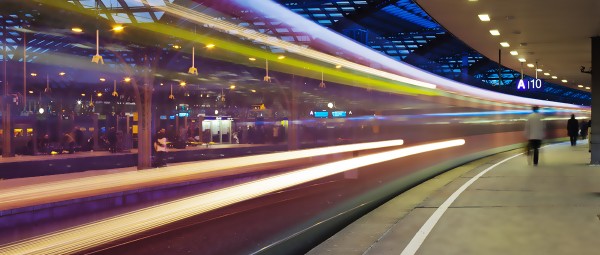 Staying on Track
Flexible maintenance intervals can increase productivity in rail traffic. Schaeffler provides the technology required for this.
Axlebox Bearings
Safety First
The train is rushing along at 300 kilometers per hour. Passengers don't take much notice; some are reading, others are talking over a cup of coffee in the on-board bistro. The heavy work is carried out by 32 axleboxes that keep the 500-ton train on the track. They not only carry the weight and are subjected to vibrations, but they also have to support the cornering force in every curve. Particularly high loads are applied to the axlebox bearing that functions as the interface between the axlebox and the bogie connected to the car. Axlebox bearings made by Schaeffler are used around the globe in rail vehicles, from subways to high-speed trains.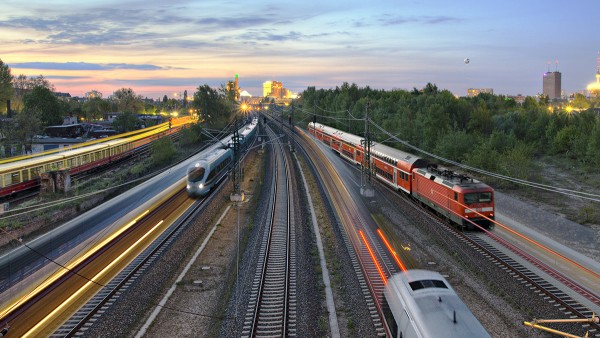 Axlebox bearings are components that are important for the safety of every train. That is why they require maintenance on a regular basis.
For instance, the axlebox bearings in German ICE trains are replaced after 1.2 million kilometers. Since an ICE travels an average of 1,500 kilometers per day, though, maintenance must be performed after only two years – regardless of the bearing's technical condition. The axlebox bearings are not disposed of, but rather they are removed, inspected and reconditioned – a time-consuming and expensive process because of the required installation and removal. This brings an obvious idea to mind: Permanently observe the condition of the axlebox bearings during operation and only replace the bearings when they are actually worn, not when you just suspect that they might be. Schaeffler offers the technology required to do this with condition monitoring.
Condition Monitoring
Longer Maintenance Intervals
As tough as the life of an axlebox bearing may be: If it was made by Schaeffler, it will not show any signs of wear on its mechanical components even after more than a million kilometers – meaning that the axleboxes may be in use longer than the specified maintenance intervals permit. A critical issue is often the lubricant that the axlebox bearing runs in. Shearing forces, pressures and high temperatures all cause the lubricant to age both mechanically and chemically and gradually lose its effect. In extreme cases, the axlebox may overheat – which would result in the immediate decommissioning of the train. How fast this ageing process happens very much depends on the operating conditions.
This is where Schaeffler's Condition Monitoring System comes in, because in the axlebox bearings, sensors permanently measure the most important loads: speed, temperature and vibration. The data are initially sent to an evaluation unit that is located inside the bogie. This miniature computer constantly calculates the remaining service life of the grease according to a formula developed by Schaeffler experts. This key figure cannot only be represented as plain text on board, but also for the demand-based planning of maintenance intervals.
Someday, big data methods will help us correlate the grease quality and operating conditions from historic data.
Such a procedure would allow the forecast capabilities to improve so much that an extension of the maintenance intervals can be achieved regardless of ageing and with the same high level of safety and reliability. In times of increasing traffic, this is a real added value for operators and passengers.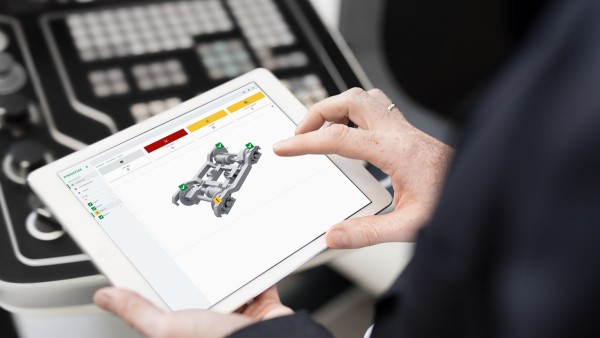 Underfloor Drives
Drive Unit Constantly Monitors Itself
Manufacturers of rail vehicles increasingly rely on underfloor drives. Every other wheelset in the ICE 3 is driven by a 500-kilowatt electric motor, allowing trains to do without power cars, which in turn means an increase in transport capacity. It is also possible to expand the condition monitoring system from the axlebox bearing to the complete driven wheelset.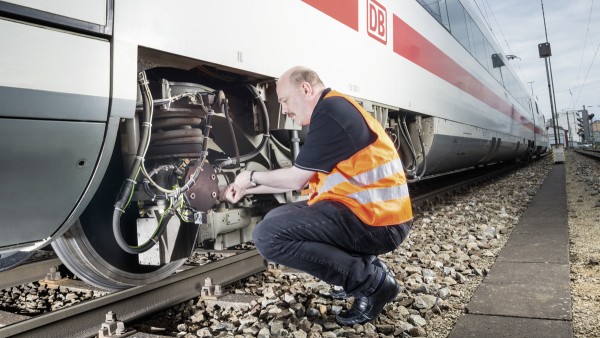 "We are using the same approach that we showed at the Hannover Messe for the machine and plant engineering industry," said Dr. Holzapfel. As part of a special exhibit on predictive maintenance, Schaeffler presented a drive unit consisting of a motor, gearbox and clutch that constantly monitors itself. Specific functions have now been programmed for use in passenger trains. For instance, the system uses measuring data to detect external influences such as flat spots on the wheel rims that have a negative impact on driving comfort due to their noise development and increase the wear on vehicles and tracks. This type of diagnosis can be displayed as a plain text message in the cab.
The first prototypes of the new Condition Monitoring System by Schaeffler were first tested successfully in high-speed trains in 2015. The system is currently being tested in collaboration with several customers and is subsequently expected to demonstrate in practice that it can increase productivity in rail transport.
Share Page