Increased Efficiency Throughout the Entire Production Process
Schaeffler expands its range of Industry 4.0 condition monitoring solutions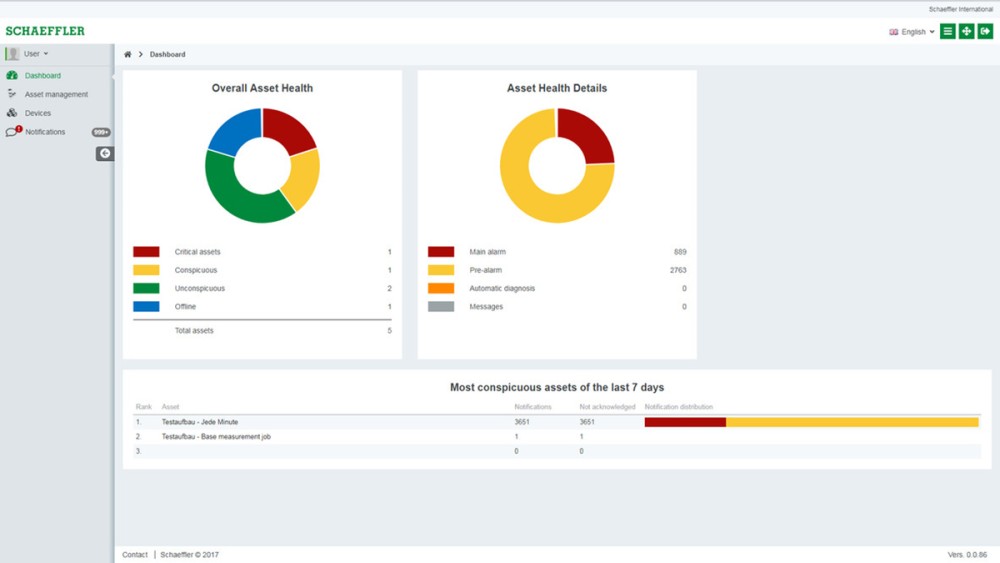 2019-07-03 | Schweinfurt
Schaeffler offers a comprehensive range of software solutions for monitoring components, machinery, and processes
Industry 4.0 developments that have proven effective in Schaeffler's production are made available to the general industrial market
Schaeffler will be presenting a comprehensive concept for increasing efficiency in the machining industry at the EMO 2019. Three software-based services allow intelligent monitoring and the condition assessment of components and units from machines and production systems through to manufacturing processes. The benefit of using these software-based services is always an increased effectiveness of the overall system. The ConditionAnalyzer software offers automated condition monitoring for rolling bearings and drive elements based on Schaeffler's vibration and rolling bearing expertise. This cloud-based service is mostly used for predictive maintenance. The software identifies the type and severity of the damage to the monitored unit without the requirement for expert knowledge from external specialists. It assesses the condition of rolling bearings and simple drive components such as motors, pumps, and fans and delivers clear-text analysis results.
Schaeffler will be presenting its new autinity VibroControl and autinity FactoryHub systems for the first time at the EMO 2019. These software solutions have been successfully used in Schaeffler's production facilities for several years and have proven their significant added value. VibroControl is an innovative early warning system for machining processes in production, which monitors and analyzes entire machining processes based on vibrations. With this type of process monitoring, operators can, for example, achieve improved tool life and reduce the quantity of scrap and downtimes. FactoryHub is a universal software tool for operators, which allows them to record all kinds of operating data, evaluate and visualize them, and automatically generate reports and various other data.
VibroControl and FactoryHub were originally developed by the Chemnitz-based IT company autinity, which was acquired by Schaeffler in 2017. The company continues to be run as Solutions Digital Solutions. Offering autinity software to the general industrial market was a logical consequence given its verifiably positive effects on productivity and machine availability in Schaeffler's production facilities. The strategic business sector for "Industry 4.0" develops industry-specific solution packages to utilize the maximum performance along the entire product life cycle of machines and facilities. While monitoring solutions have so far been perceived as a means for predictive maintenance, they are also increasingly used for making production more efficient by maximizing machine utilization, achieving improved machining quality and reducing scrap rates, for example.
Publisher: Schaeffler AG
Country: Germany
Share Page