October 19-21, 2018 in Nuremberg
Schaeffler at Digital Tech Summit
The Digital Tech Summit is a 3 day digital conference with top class international speakers, and a hackathlon where over 300 hackers, engineers, and startups from all over the world will push the limits of technology. In line with our strategy "Mobility for tomorrow", Schaeffler acts as main sponsor for the mobility challenge. We provide our revolutionary eBoard hardware hackers to develop innovative transport services and novel security concepts.
Digital Tech Summit
Topics
The mobility of the future must be simple and effective – and environmentally friendly at the same time! How will we get from point A to point B at the end of the oil age? Whether it's for short trips to the bakery, or a trip to the other side of the world – we are looking forward to your ideas!
Challenge 1
Develop innovative services for first or last mile integration of the Schaeffler eBoard into the public transport network, e.g. user friendly booking, sharing, billing services, autonomous delivery and parking and charging solutions.
Challenge 2
Optimize the safety of the Schaeffler eBoard for applications at work, leisure or sports, by e.g. environment recognition systems, V2X communication or adaptive speed and power limitations.
eBoard | Contacts at Schaeffler
eBoard from Schaeffler
Future Mobility is in Steady Change
Due to the emissions of combustion engines, the needed parking space and the noise, cars are more and more banned from the cities. The public transport gains in importance but simultaneously the desire for individual mobility increases. This goal conflict can only be solved through so-called multimodal mobility concepts.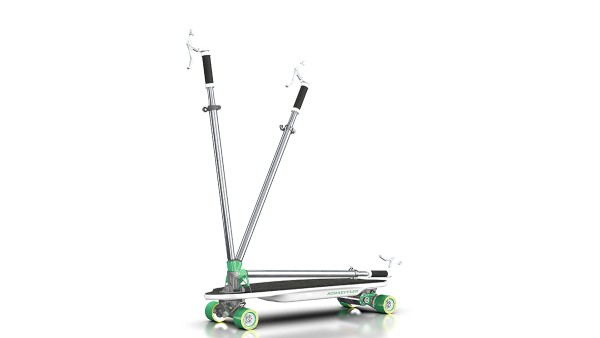 A classic example is the commuting by train first and covering the last mile by bike. But bike carriage is often expensive or not even allowed. A solution to this problem is a small, transportable vehicle, which is supported by electric motors – a nanomobile that closes the gap between cyclists and pedestrians.
The eBoard contains an internal developed steering and braking system, which is con-trolled by a steering stick. The stick is ergonomically designed and is equipped with a special planned handling. Therefore it is possible to steer, accelerate, brake and put on the emergency brake with only one hand. Furthermore the user can shore up and stabilize himself through the stick.
A self-developed motor bracket and a from scratch designed skateboard axle (hanger), are more features of the eBoard. The folding mechanism at the front axle completes the internal developed design from Schaeffler.
Schaeffler technology magazine "tomorrow" | A vehicle to carry along
Videos
Schaeffler is shaping mobility for tomorrow
Schaeffler shows solutions for tomorrow's mobility
What will mobility look like in the future? Everything is constantly changing. In order to reach destinations more efficiently, you need more flexibility, especially when combining different means of transportation. Technology helps us to achieve this, skillfully taking over time management. Schaeffler with its products is shaping mobility for tomorrow! The transportation options and products shown in this video that has been produced for the Consumer Electronics Show 2017 (CES) are a small excerpt of our current portfolio and visions.
Schaeffler and IBM enter strategic partnership
As part of its "Mobility for tomorrow" strategy, Schaeffler is digitizing its entire organization. Schaeffler has chosen IBM as its strategic partner to support the integration of its mechatronic components, systems and machines into the expanding world of the "Internet of Things" as well as implementing market ready new business models based on digital services.
Press Area
News, Media & Social News
You can find up-to-date news from the Schaeffler Group, social news, event notes, images for the press, background information, and videos in the News & Media area.
Share Page