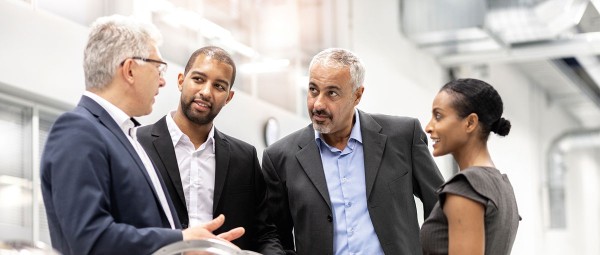 Our success is driven by our employees.
2,900 trainees worldwide and 5,000 training courses in Germany alone.
Leadership essentials
A consistent understanding of good leadership at Schaeffler is characterized by the three Leadership Principles – trust, transparency and teamwork.
We have identified six Leadership Essentials that are considered especially important for Schaeffler. These Essentials evolved from workshops and interviews with hundreds of Schaeffler's leaders and employees worldwide. They do not aspire to paint a holistic picture of leadership, but rather focus on areas that we believe will be crucial for Schaeffler's future success:
Connect for success
We all have both the aspiration as well as the responsibility to continue Schaeffler's success story. We aim to excel to the top in certain businesses and maintain our position where we are already leaders. This is only possible if we cooperate seamlessly across our regions, businesses and functions.
Empower your team
Leaders need to be able to focus on the most important tasks at hand. To realize our maximum potential, we need to empower others and we have to trust in them to do a good job.
Care for people
The commitment and expertise of our employees are key to the future success of our company. Therefore, we need to ensure that our leaders not only help their teams to develop new skills, but also provide an inclusive working environment that encourages and acknowledges creativity.
Manage for results
Result orientation is part of our DNA. This "promise and deliver" attitude is something we need to keep and further build on. A stronger focus on customer requirements and increased efficiency will be vital in serving their articulated and anticipated needs.
Drive the change
In recent years, our industry has experienced incredible technological development at an ever-increasing pace – a trend that is set to continue. Therefore, all leaders need to drive innovation and engage our employees to develop and implement new ideas.
Take on responsibility
Every day, leaders are required to make decisions, with varying degrees of difficulty and risk. Taking and standing by those decisions is an essential component of leadership that should be carried out consistently.
Share Page